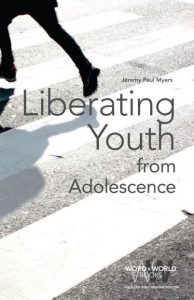 "I often say I love kids more than I love Jesus. I think Jesus is okay with this sentiment. In fact, I think Jesus prefers it this way. He can handle it. Jesus knows our young people are caged birds like the ones in Maya Angelou's poem. I write this book to change the way we think about our young people so that we might love them as they are, not as we think they should be."
This is how Dr. Jeremy Myers, associate professor of religion at Augsburg, begins his first book, "Liberating Youth from Adolescence." The book is scheduled to be released in paperback and ebook format on Oct. 1 by Fortress Press.
Myers says he has been teaching this material in the Youth and Family degree program at Augsburg for the past decade and it was an honor and privilege for him to finally put it down on paper for a larger audience.
"The writing process was both exhausting and exhilarating," Myers said. "I struggled to find the words to best communicate thoughts and convictions that are so important to me. There were many times I considered throwing in the towel. But the urgency and importance of the topic kept me motivated. I am so excited to have these ideas out there in the larger conversation and can not wait to hear what people think about it."
About the Author
Jeremy Myers has been teaching at Augsburg University since 2006. His approach to instruction includes a faithful, honest, and critical look at people's lived realities while simultaneously attempting to seek and proclaim meaning, truth, and hope within the context of that reality. This is also how he approaches his discipline of Theology & Public Leadership. Therefore, he often incorporates insights from sociology, psychology, cultural studies, and ritual studies into the class's theological process.
In addition to teaching, his work at Augsburg University includes directing the Theology & Public Leadership major, the Youth Studies minor, the Augsburg Youth Theology Institute, and the Riverside Innovation Hub. Jeremy's areas of research include youths' experiences of God's presence and activity, how young people construct theology, contemplative youth ministry practices, interfaith youth work, a vocational understanding of young people, and a public understanding of church.