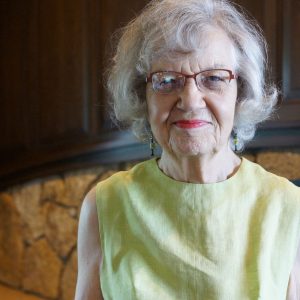 Grace Kemmer Sulerud '58 has displayed faithful service to Augsburg University across her time as a graduate, librarian, faculty member, and alumna. She personifies Augsburg's deep sense of calling to humbly serve others in a variety of ways, with joyful dedication.
As a dedicated volunteer, her nominators say, "You will find her wherever an extra hand is needed."
Determined to gain a full education, Sulerud worked and saved money to go from her hometown, Williston, North Dakota, to Augsburg, as it was the college of the Lutheran Free Church. Sulerud's Augsburg education and excellent professors prompted her to experience life in the Twin Cities, exploring the state capitol and fine arts like symphony concerts and plays. She made lifelong friends and enjoyed being on the staff of the student newspaper, The Echo.
After graduating from Augsburg in 1958, she was an elementary librarian and junior high English teacher in Grand Rapids, Minnesota. From 1961 to 1964, she was an elementary librarian in U.S. Air Force Department of Defense Schools in Tokyo, Japan; Tripoli, Libya; and Wiesbaden, Germany. This gave her an opportunity to travel around the world with a stop in India to visit a friend, Maxine Berntsen, another distinguished alumna of Augsburg. After returning to the United States, Sulerud studied for a master's degree in Library Science (1968) and later received a master's degree in English (1970), each from the University of Minnesota.
During her many years as Augsburg's Collection Development Librarian and faculty member, she was committed to the learning of students. She served two terms as the treasurer of Augsburg Associates, from 2003 to 2007 and 2011 to 2017, ensuring they raised funds for Augsburg student scholarships. Her interests and energy lead her to participate in travels to Cuba with the Delegation For Friendship Among Women, and to Ethiopia supporting the efforts of REAL, Resources for the Enrichment of African Lives, an organization that helps girls stay in school.
In Minneapolis, Sulerud is a member of Trinity Lutheran Congregation located on Riverside Avenue, a congregation associated with the founding of Augsburg, where she sings in the choir, leads the monthly quilter's work session and has participated in activities with Metropolitan Interfaith Council on Affordable Housing.
With her late husband Ralph, long-time Augsburg biology professor, Sulerud has remained a supporter and enthusiast for all things Augsburg. Though she retired from Augsburg in 2003, she continues to stay involved at important university events: the recent grand opening of the Hagfors Center for Science, Business, and Religion; Homecoming festivities; Velkommen Jul; and Advent Vespers.
Sulerud lives out the Spirit of Augsburg Award and exemplifies Augsburg's historic mottos consistently: "Education for Service" and "The Truth Shall Make You Free." Her loyalty, dependability, and generosity enable Augsburg to carry forward with hearty conviction, intellectual rigor, and relational connectedness.