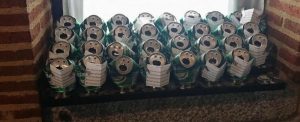 Do you like to sing? Do you like to support Auggies?
We hope that you will join us for the inaugural kick off of the Auggie Beer Choir on Tuesday, April 16 from 6:30-9 p.m. open to all Augsburg alumni. We are delighted to be able to gather at the Auggie alumni-owned Boom Island Brewing Company. This event is free to all participants. The option to upgrade for purchase of a meal will be available through Tuesday, April 9. Please note that all beverages (both beer and non-alcoholic choices) are available for purchase on your own. Register today to help us keep an accurate count for music.
The song selection will be a mix of Auggie choir favorites and drinking songs led by Augsburg music directors.
We hope you will "Stay with Us", and "Look to this Day" as we remember that "In Heaven, there is no Beer"…Manga Tussen!