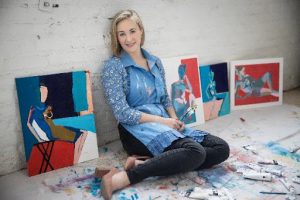 Colleen (Carstensen) Peterson aka "CeCe" graduated from Augsburg University in 2004 with a double major in Psychology and Religion and a triple minor. She has made it her life mission to help others see their strength through their trials and tribulations, something that she is infinitely familiar with. From being diagnosed with dyslexia at eight, being an Olympic-trained figure skater and enduring the abuse of her coaches, losing her brother at 25, to having a severely disabled son, CeCe has founded a non-profit and used art to find strength in challenging times. 
The birth of CeCe's son and her frustration with not getting the right adaptive equipment to learn, play, and grow inspired the creation of her non-profit, Children's Organization of Lending Equipment (The COLE Foundation). This mission of COLE is "connect costly adaptive equipment from children with disabilities who outgrow the equipment to other children who need it, at no cost. COLE provides a resource for families to browse and then Lend from our library of equipment."
Another outlet for CeCe has been her artwork. Her most recent work will be exhibited at Hallberg Center for the Arts (Wyoming, MN) from March 24 – April 16, 2022. Her intentions for her series, Little Girls in Pretty Boxes, are to reveal the struggle and loneliness but also the strength of womanhood. CeCe's bold color palette creates the female form representing light, shadow, and space. Taking a closer look at each shape and stroke, the big and small events in life become a harmonious dance on canvas. 50% of the profits from each purchased painting will go to the COLE Foundation. Check out CeCe's website: Www.CeCegallery.com.