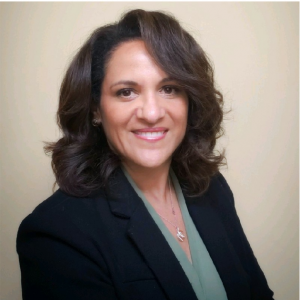 Lisa Archer (MAN '17) started her role as the Chief Nursing Officer at Mayo Health Clinic Systems in Southwest Wisconsin in December of 2021. After speaking with her, you'd never know that this was her second full-time career! Lisa's self-described unconventional pathway to nursing and healthcare administration is a reminder that one's vocation can be fulfilled at any time. "I used to work in the IT industry as a business analyst, but personal events led me to pursue nursing," Lisa shared. "When my grandmother fell and broke her hip and had to transition to a nursing home, I had a really impactful conversation with a nursing assistant." The Nursing Assistant noticed Lisa's dedication to her grandma and the round-the-clock care she was providing to her. It was during this time that Lisa reflected on how she could best impact people's lives. "I wanted to allow other people to go home at night and feel secure in knowing that their loved ones were safe and being taken care of."
Shortly after this encounter, Lisa took on the crucial yet daunting experience of returning to school. "At that point, I'm not even sure how long I had been out of school," Lisa mused. After prerequisite work and earning her two-year ADN degree at North Hennepin Community College, she went on to St. Kate's to earn her BSN. While working at the University of Minnesota, part of the Fairview Health System, Lisa knew she wanted to earn her master's and Augsburg's transformational leadership track in the Nursing Program seemed like the perfect fit. "The location and diversity of the campus were big draws for me," Lisa shared.
LEADERSHIP LESSONS
Lisa shared how Augsburg's nursing program challenged her perspective through coursework and clinicals. She described tending to homeless peoples' wounded feet and working with women in the Somali community made her confront the difficult question of: How do you impart your healthcare knowledge to groups that may hold distrust with the healthcare system or might not be familiar with Western medicine? "Knowing how to meet people where they are at (spiritually, mentally, emotionally, physically) allowed me to figure out ways to connect that came from an open and non-judgmental place."
Someone Lisa credits in helping her navigate tough leadership situations is Joyce Perkins. "I took a class about quantum leadership with her and I've never wanted to drop anything so badly in my life!" she exclaimed. "Nurses are typically very analytical people, and I had a hard time grasping the abstract concepts," Lisa admitted. However, in hindsight, that class was one of the best experiences because it helped prepare her to be the leader that was needed during the COVID-19 pandemic.
Lisa's Auggie connections have followed her to Mayo Health Clinic Systems where she works in close partnership with Dr. Paul Mueller ('84), a fellow Augsburg graduate and the chair of Augsburg's Great Returns Campaigns . "We have a triad leadership model. I'm the lead for nursing, Paul is the physician leader, and we also work with Mike Morrey as the administrative leader." Lisa explained. "Paul is a great person to work with. We are like-minded in our approaches on how to address issues associated with healthcare and finding ways to provide equal opportunity and combat disparities." 
BUILDING RESILIENCE
Strong administrative leadership is critical during times of crisis. "A lot of the work leaders do is behind the scenes. We're either trying to reinvent healthcare, obtain resources, remove and reduce barriers or create new processes." Lisa said. Figuring out how to keep frontline workers motivated when they are experiencing emotional, mental, and physical burnout is an equally challenging feat. "It's really tough. I think every nursing track should have a class on wellness and how to create an individual resiliency plan." For Lisa, leadership has its limits. Removing barriers for her staff and creating an accommodating work environment will only get people so far. True happiness and fulfillment in a job have to come from within. One long-term goal for Lisa is making nursing school a feasible option for anyone who has the aspiration to become a nurse. "Creating more accessible programs that fit people's lives and ensuring the nursing profession in this region and beyond is delivering high-quality and safe care are important to me," she expressed.
Although she is still navigating her new role, the impact Lisa hopes to make in her field is resolute. "No matter who you are, everyone deserves access to healthcare," Lisa reflected as she stated her desire to keep opportunities of centering safety, experience, and quality of care under her leadership. Leading with a safety lens is key to her philosophy. Tapping into more inclusive resources, and broadening accessibility gives Lisa hope for a safer and more equitable future in healthcare.