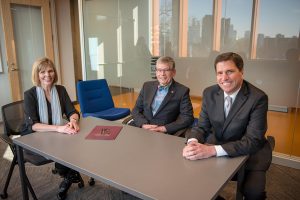 Ask Nancy Mackey Mueller '85 about her family's planned giving history and philosophy, and her answer will be succinct: "We're all in."
Indeed they are, for reasons that both she and her husband, Paul Mueller '84 articulate clearly. Their commitment goes deep. Paul served on the Augsburg Board of Regents for 12 years and currently chairs Great Returns: Augsburg's Sesquicentennial Campaign. Nancy was named to the Board in 2018. They have donated often over many years, including a previous bequest to support the Hagfors Center for Science, Business, and Religion, and most recently designated a planned gift to create the Paul '84 and Nancy Mackey '85 Mueller Presidential Scholarship, valued at $1,000,000.
"We both felt that our experience at Augsburg gave us the keys to success for our future," explains Nancy. Their college experience was not only positive but also rigorous, preparing them for challenging graduate work and distinguished careers. "We were both encouraged in different ways. As the only woman in the physics department at the time, I was always very much supported. I never felt I had to prove myself any more than the guys in my major, and that gave me the confidence to stretch myself."
Coming to Augsburg
Nancy became a structural engineer, earning a master's degree in aerospace engineering at the University of Maryland and helping the U.S. Navy design submarines before eventually becoming a physics and chemistry teacher at Mayo High School in Rochester. She had followed her father and her aunts to Augsburg, where she first met her future husband when she was a nervous sophomore tutoring juniors and seniors in physics. He remembers being smitten; she remembers just trying to get through the intimidating hour. Dating came later, but the scene had been set.
"We have a deep affection for Augsburg. It's where we met," Paul says. "We also appreciate the values of the institution—its academic rigor, its vision, its commitment to the Cedar-Riverside community. Augsburg transforms lives."
Paul had already won a scholarship to the University of Minnesota when a visit to Augsburg's campus altered his trajectory. Impressed by the warmth, welcome, and undivided attention he received that day, especially from chemistry professors, he chose Augsburg. Now-retired chemistry professor John Holum became his mentor and inspiration. Paul went on to earn his MD and MPH at Johns Hopkins University and is now an internist and professor of medicine and biomedical ethics at Mayo Clinic and the regional vice president of the Mayo Clinic Health System—Southwest Wisconsin.
What Sets Augsburg Apart
Both Muellers have fond recollections of Augsburg support and inclusion. "It felt like family. Somebody was always looking out for you. If you missed class, the professor would see you later and ask where you were. That was one of the things that set Augsburg apart, then and now. No matter who you were, or what interests or inclinations you had, you felt very welcomed," Nancy says.
That Augsburg "vigorously retained its Lutheran heritage while at the same time welcoming everyone is very important and appealing to us. It's the idea that we are called to love and serve each other, without regard to personal characteristics such as race, religion, or sexual orientation," adds Paul. "In today's world, it seems like the focus is more on what separates us than what brings us together."
He also notes that these days, more than half of the student population are people of color. "It didn't look that way when we were there, and I love that about it," he says.
Nancy points to the unusual number of programs designed to help students with special needs and talents, from StepUP to URGO. "As parents, we've been on many college campus tours, and nowhere else offers the programs that Augsburg does," she says. "It's a unique place, and we so believe in their mission."
Their oldest son, Luke, majored in math and history at Augsburg before pursuing a graduate degree in statistics from Harvard. His mother notes that his presidential scholarship made a big difference to him, both financially and by providing opportunities he may not otherwise have had. Endowing such a scholarship for future generations made perfect sense.
"Removing cost as a barrier to education—that was our intent," Paul says. "We very much wanted Augsburg to be able to attract top-notch students without regard to expense. To have brilliant, talented, gifted students be able to come to Augsburg without having to worry about how to pay for their college education? Now that is changing lives."