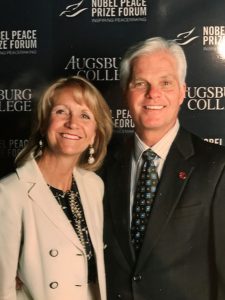 He played football. She ran cross-country. Although they first met as freshman members of the Fellowship of Christian Athletes, Mark Moksnes '79 and Pam (Hanson) Moksnes '79 were focused on their studies and busy with their sports. He was a sociology and social work major with an eye on the seminary. She was a psychology major and biology minor, considering dental school.
The two started dating in senior year and married soon after college, although neither knew for sure where their paths would take them. But they did know that Augsburg had provided a strong foundation, not only in faith-based education, but also in community service and outreach. Perhaps they knew, too, that their allegiance would make charitable giving essential to their lives, allowing them to share those benefits with new generations.
Mark built a business career as a sales and marketing executive with Delta Dental and Anthem. A postgraduate financial planning education launched Pam into a career that combined financial management and charitable giving, providing expertise that served others well in her work with Thrivent Financial and the Lutheran Church-Missouri Synod. Now parents of three college-educated children and five grandchildren, the couple has donated to Augsburg causes throughout their lives, most recently giving an unrestricted endowment to Great Returns: Augsburg's Sesquicentennial Campaign.
"We feel called to support Augsburg's mission, just as we always have," says Mark. Earlier in their marriage, however, giving to Augsburg meant going out on a limb, a scary prospect for a young family. "We didn't know where the money was going to come from, or how. It's amazing what happens. God just provided. Those are his resources, and we put our trust in him regarding that. We just absolutely love being able to share."
"That we have continued to be so engaged with Augsburg has enriched our lives," adds Pam, a Board of Regents member since 2013. Their daughter, Laura Moksnes '06, earned a psychology degree at Augsburg and a Master's degree at Pepperdine University, later returning to Augsburg as an adjunct professor.
Pam's professional experience in charitable giving offers a valuable perspective. What kind of gift is best? "Whatever the donor wishes to do is the right thing, of course," she says. "Giving can be so joyful for the giver. People who have been touched by Augsburg make these connections in all kinds of ways."
While some choose to address immediate needs, Pam and Mark believe that an unrestricted endowment can be even more gratifying and beneficial in the long run. "We all know that in today's world, with all the political and financial changes in our economy, the challenges to universities and other organizations are substantial. A strong endowment helps ensure that Augsburg can respond to these changes and stay ahead of the curve in planning," she says. "I feel like it's the right thing for us."
Raising awareness about the impact of unrestricted giving is important as well. Since no one can predict the future, Augsburg needs a strong, solid financial base to adapt and serve, to fulfill its mission no matter what needs may arise at any given time. "Ensuring that our foundation stays in place will also serve the community, so tomorrow's leaders will leave Augsburg ready to serve the world in an ethical, moral, and faith-based way," says Pam. "That is the Augsburg mission in action."