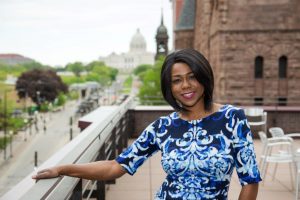 As a child growing up in Chicago, Danielle Stellner '07 heard mixed messages in her community about the importance of education. But in her family–a family of modest means–there was never any doubt that excelling in school was non-negotiable. Her mother made that clear.
Then, at the age of 18, Stellner herself became a mother. She knew her son was a real blessing. She also knew she yearned for something more in life, but she wasn't sure what.
As she looks back over the years now, she is impressed at how dramatically access can change one's life and trajectory. Access to college, access to job opportunities, access to mentors.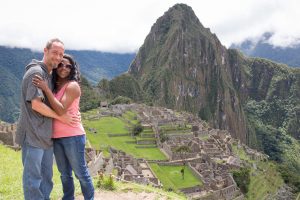 One such mentor for Stellner was Erik Nycklemoe, an early supervisor in her career whom she sees as the first person to care about her career and life development. He made it possible for her to earn her B.A. from Augsburg, she says, making her the first in her family to earn an undergraduate degree. Access to evening/weekend study at Augsburg's Weekend College (now Adult Undergraduate program) was a real break for Stellner, who needed to balance studies with being a working mom.
Moving to Minnesota in search of a safer life for Deion, her three-year-old son, Stellner landed an internship at a 24-hour news station in downtown Minneapolis, then moved on to editing, producing, and hosting. This experience helped hone her skills in content creation and delivery, and she later joined Minnesota Public Radio (a "happy accident"), where she now serves as Managing Partner of Business Planning. She sees public radio as more relevant today than ever. "You can trust public radio to rise above the pack and provide not only relevant news without slant, but arts and cultural programming that consumes you," she says, and then quotes Thomas Jefferson: "…wherever the people are well informed, they can be trusted with their own government…."
She also found time to complete an MBA from the Carlson School of Management, where she had access to another mentor, Lisa Bittman–a Godsend, and a grounding force through some tough years, she says.
In the whole process, Stellner fell in love with Minnesota and with her now-husband, Herbert Stellner, and they later welcomed two more children into the family, Herbert Stellner IV (9) and Clara Gem Stellner (7).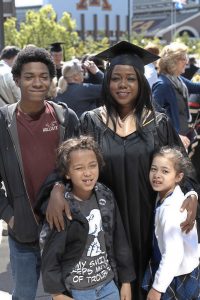 Stellner recalls her student days at Augsburg with gratitude, especially the fantastic lecturing of Dr. David Matz (sociology). In recent years she has reconnected with her alma mater, thanks to Shelby Andress '56, who introduced her to the Augsburg Women Engaged (AWE) group–"the most incredible group of women I've ever met," says Stellner. She is grateful to now be serving as co-chair of the AWE Council.
Stellner also serves on the board of Friendship Academy of the Arts, a blue-ribbon school that serves predominantly African American students, and on the board of Isuroon, an organization committed to self-sufficiency of Somali women and their families. Recently elected board secretary, Stellner is drawn to the organization by its dedication to changing the narrative that is portrayed in mainstream media to one that more accurately reflects the true family values of Somali culture.
Even with a demanding work schedule, Stellner and her family manage to keep a garden, and take delight in eating the fruits of their labors. But they wouldn't mind some additional time with no agenda–time for family play, reading for pleasure–and perhaps a few extra hours of sleep. During Homecoming this fall, Stellner will be honored with Augsburg's First Decade Award.
–by Cheryl Crockett '89