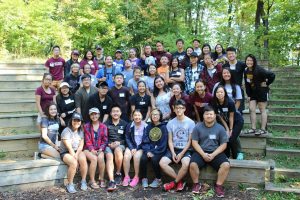 Every fall, students from the Multicultural Student Services & International Student and Scholar Services organizations gather off campus for a Fall Leadership Retreat to build community, engage in important discussions, and gain leadership tools. During the retreat, students affiliated with the Augsburg Asian Student Association (AASA) have the opportunity to participate with AASA alumni in the Refugee Odyssey, an intense simulation that AASA started back in 2008.
Alumnus Cheemoua Vang '16 took part in the Odyssey as a student and has volunteered the last two years to help run the event. He says his first experience was indescribable, but a moment from which he bloomed and grew emotionally, mentally and spiritually. That's why he and other AASA alumni choose to come back to volunteer.
"I call it the cycle of giving back," he said. "Alumni volunteers who take part in the Odyssey have all participated in it before at least two to three times. This is important because those who have personally gone through the Odyssey will be able to connect with the student participants. They'll understand the impact of it on a personal level and know the sensitivity of the event and what it takes to be involved with it."
The sensitive nature of this event comes from students simulating the experience of immigrants running from their homes during wartime, fleeing from soldiers, to find safety. The simulation is meant to help students explore their history.
Senior Cam Thu Pham has participated in the Refugee Odyssey the past three years and says "the Refugee Odyssey is a learning experience of rediscovering one's history or awakening an interest in learning one's parent's raw history and sacrifices. It is a frightening experience, and you would not know what to expect while laying in the pitch black grass and thorny bushes waiting with your adrenaline rushing as you try to get to a safe place."
In her first two years, Cam was a runner during the simulation and last year she chose to be a soldier, whose job it is to catch the runners. These experiences have led Cam to further explore her personal family history.
"I finally came to the realization that my parents stories that they had always told me were not because they were bored and had nothing to talk about, but because it was all they had to talk about. It was their history and their roots. I never took the time to appreciate those stories until I sat down with my parents after [the Refugee Odyssey] and asked them to tell me those stories once again. I think these stories have led me to recognize my privilege to be where I am today from the upbringing of my parents, to not ever forget where I originally came from, and to appreciate my identity as a proud Vietnamese woman."
For both Cam and Cheemoua, the Refugee Odyssey and AASA have helped to shape their experience at Augsburg.
"AASA is not just a platform of support, but to me it feels like a family that has lifted me up through my hard times throughout my experiences here. AASA members are empowering people who have so much influence on me as an individual," Cam said.
Cheemoua feels a similar connection to the group.
"I first got involved with AASA during my first year of college," Cheemoua said. "I was eating lunch all by myself and a group of AASA members invited me to eat with them. They were very welcoming and friendly. After joining them for the Fall Leadership Retreat, I found the leadership in me that Fall and I just kept growing ever since."