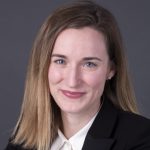 Caryn Quist's ('09) passion for science began in high school, "I had a teacher named Mr. Rogers, I kid you not!" Caryn laughed. "It was during this class that I fell in love with chemistry. Everything came to life for me in the lab." When it came time to decide where to go to college, Augsburg was the perfect fit. "I loved the well-rounded aspect of a liberal arts education in the heart of Minneapolis," Caryn shared. She graduated in 2009 with a major in Chemistry and a minor in Biology.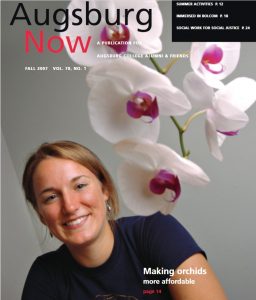 At Augsburg, Caryn participated in a research project through the Undergraduate Research and Graduate Opportunity (URGO) program. "I worked with the Biology Department where we studied orchid cloning in partnership with a local greenhouse." Caryn shared. Her involvement with URGO and working as an assistant to Dixie Shafer, Director of URGO, made a lasting impression. "Dixie strikes the difficult balance of holding very high standards yet leading with empathy," Caryn said.
Dixie instilled the importance of networking which led Caryn to connect with a variety of professionals in her field. "I got lucky and met with a Chemistry professor at the University of Minnesota who was doing collaborative work in civil and environmental engineering. He picked up on my curiosity and told me to look into that area further," Caryn reflected. She went on to earn her masters in Civil and Environmental Engineering from Stanford University in 2011.
CLEARING THE AIR
Caryn accepted a job offer in California after grad school and has remained there since. She spent the first few years working on several soil and groundwater cleanup projects in California's Central Valley. "It was a great experience, but I eventually realized it wasn't something I wanted to become an expert in," Caryn said. This led to her transition to the industry side where she focused on environmental compliance at an Intel semiconductor fab. Later she pivoted to a local government agency strictly focusing on regional air quality. She applies all this experience to her current position as an Environmental Manager at Meta (formerly Facebook). "I took this job because I wanted to have a say in how data centers were being designed from an air emissions perspective and make sure we are being good stewards of local and regional air quality."
LOOKING TO THE FUTURE
The connection between air emissions and digital-driven corporations may not be given much thought by people, but it's an extremely crucial component to operations and the decisions made now will weigh heavily on the future. "The data center sector is growing at a very fast clip and it's very important to be cognizant of the environmental footprint they have during their entire life cycle," Caryn stated.
Climate change and environmental justice are two interconnected issues that are central to the future trajectory of the civil and environmental engineering field. "Environmental justice is the concept that while everyone has a right to be protected from environmental pollution and live in a clean and healthy environment, studies show a strong disparity of who has access to that along lines of race, income, national origin, and language proficiency. Environmental justice populations continue to be vulnerable to the health risks associated with living in polluted areas and are also commonly disenfranchised to do anything about it politically. Climate change is projected to exacerbate all of this." Although we have a long way to go in confronting these issues, the good news is that many are stepping up to collaborate in government, the private sector, nonprofits, and academia. Consumers have also become more savvy about greenwashing tactics and are starting to understand the lifecycle footprint of our everyday lives.
When asked what kind of legacy she wants to leave behind, Caryn simply stated: "Creating tangible changes on the road to a more sustainable future for future generations. For example, the data center industry, like many others requiring 24/7 operations, still heavily relies on backup diesel generators. I'd like to eliminate that need some day and work myself out of a job!"