---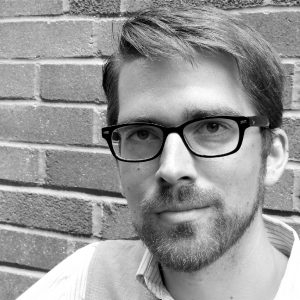 Brian Krohn '08, Ph.D., is a passionate innovator, entrepreneur, and Augsburg's first Rhodes Scholar. Switching from an Augsburg degree in film to one in chemistry was only one component of a rapidly expanding career that includes experience in renewable technology, mobile app development, local food, and medical devices.
In a joint letter nominating Brian for this award, the Chemistry Department at Augsburg says, "Brian is an alumnus who typifies the best of Augsburg's liberal arts education; he weaves together his care of creation and humanity with his technical prowess and creative insight to make the world a better place."
While at Augsburg, Brian was named a Goldwater Scholar, founded the Honors Review journal for student scholarship, and created an Honors course on home brewing. He researched the production of cleaner biodiesel fuel in collaboration with Augsburg's Professor Emeritus Arlin Gyberg, Ph.D., and alumnus Clayton McNeff '91, which spurred a new patented catalyzation process and physical plant, Evercat Fuels, that produces more than 8 million gallons of biodiesel per year. Some of Brian's research has been featured on "Good Morning America" and the National Council on Undergraduate Research Session.
Watch the KARE OnLIVE segment on his research below:
Brian earned a Ph.D. in Natural Resources and Sciences and Management from the University of Minnesota as an Environmental Protection Agency Fellow, as well as master's degrees from the University of Oxford in Environmental Change and Management and the History of Science, Technology, and Medicine as a Rhodes Scholar. He co-founded several companies including Mighty Axe Hops, which is the largest producer of Minnesota hops for local craft breweries.
He was an Innovation Fellow at the University of Minnesota's Medical Devices Center, where he worked on projects ranging from a new tool to assist neurosurgeons to remove brain cancer to an app to improve sleep. He is currently the CEO of Soundly, an app-based therapy to reduce snoring, which is a technology funded by the National Institutes of Health and the National Science Foundation. His company, Magic Wizard Staff, displays his technical brilliance and playful creativity. Most recently, he joined Modern Logic, an innovative digital product development company. Brian has also served as an adjunct instructor at Macalester College and Hamline University in St. Paul, Minnesota, and has garnered numerous academic honors and entrepreneurship awards.
Brian's time at Augsburg was marked by exploration of not only chemistry, biology, and mathematics, but also philosophy, film, and literature. Paired with thoughtful consideration of calling and community, this cultivated his pursuit of knowledge, art, and technology in service to the world. His work demonstrates the power of Augsburg's intersection of liberal arts education and professional studies to enable others to be more healthy, happy, and fully human. He continues to stay connected to Augsburg and is generous with his time, encouraging and offering advice to students since his return to the Twin Cities.