After nearly nine years of advancement work and leading two of Augsburg University's most successful fundraising campaigns, Heather Riddle, vice president for Institutional Advancement, has accepted a position as senior vice president and chief development officer for American Public Media and Minnesota Public Radio (MPR).
"Under Heather's leadership, generous Auggies have given millions of dollars for strategic campus improvements, created new scholarships for talented Augsburg students, and made impacts well into the future. I am thrilled for Heather and confident in the great group of Augsburg advancement leaders she's encouraged, who will continue the culture of generosity at Augsburg moving forward," says Matt Entenza, chair of Augsburg's Board of Regents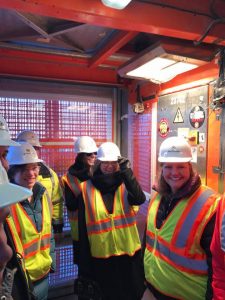 Heather joined Augsburg in September 2012, during the capital campaign for the Norman and Evangeline Hagfors Center for Science, Business, and Religion. Under Heather's leadership, that campaign successfully raised more than $55 million from more than 1,000 donors. Heather herself closed three of the largest gifts for the Hagfors Center campaign, totaling more than $25 million.
"Heather's leadership in Institutional Advancement has been nothing short of transformational," says Robert Groven, associate professor of Communication Studies, Film & New Media, and director of the Minnesota Urban Debate League at Augsburg. "She built a true culture of collaboration and philanthropy across campus and throughout Augsburg's worldwide network of alumni. Heather's creativity and relationships helped to break nearly every fundraising record in Augsburg history!"
Heather's commitment to lead Augsburg's development and constituent relations work has made a great impact on the university. During her time at Augsburg, Heather helped reimagine alumni relations and supervised an Alumni Board that has hosted many successful events in recent years, including Augsburg's Sesquicentennial Gala and Homecoming in 2019. She has also helped lay the foundation for Augsburg's first ever All School Reunion, to take place Fall 2022.
Beyond Heather's fundraising skills was her ability to build an exceptional team in Institutional Advancement. The team has been working hard on the quiet phase for Augsburg's next campaign, the Great Returns Campaign, which is already poised to reach a level of giving that will make it the largest single campaign in Augsburg history.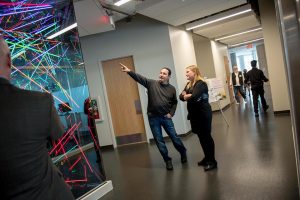 "When I first met Heather, it was obvious that she found joy in both the art and science of philanthropic fundraising. When she came to Augsburg nine years ago, she brought that joy, along with her strong professional experience and skills, and helped transform the culture of philanthropy for our university. There are obvious signs of her good work—the Hagfors Center, the Great Returns Campaign, Give to the Max Day records, and so on—but perhaps most importantly, she has invited all of us into the wonder of how philanthropy can transform an institution. Heather's impact on Augsburg will be clear well into our next 150 years," says President Paul Pribbenow.
President Pribbenow has asked Assistant Vice President of Advancement, Amy Alkire, to serve as interim vice president for Advancement. Assistant Vice President for Special Projects Sarah Erkkinen and Senior Director of Advancement Kristen Cooper will work closely with Amy and President Pribbenow on organizational planning during this transition.
The Augsburg Community shares our gratitude for Heather's work as she embarks on a new adventure. We thank her for her unyielding commitment and dedication over the past nine years and wish her all the best.