Evangeline "Vangie" Hagfors passed away peacefully on October 4, 2022 at her home.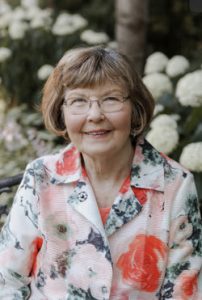 Vangie's deep connection to Augsburg began when her father, Elnar Gundale '33, emigrated from Norway and attended Augsburg Seminary. Vangie attended classes on Augsburg's campus from 1957-1959 as part of the Nurse's Training Program through the Lutheran Deaconess Hospital. And three of Vangie's siblings – John Gundale '67, Stephen Gundale '70, and Ruth Gundale '73 – also attended Augsburg.
Vangie married Norm, a University of Minnesota graduate, and together they had two children, Mark and Rachel. Norm joined Augsburg's Board of Regents in 1989 and both Norm and Vangie have faithfully served on Augsburg's President's Council since its inception in 2018. They embodied Christ's teaching to love your neighbor, a core tenant of Augsburg's mission.
Dr. Paul Mueller '84 shared, "We are saddened by the passing of Mrs. Vangie Hagfors and extend our condolences to our friend, Norm, and the entire Hagfors family. Vangie understood the tremendous value of an Augsburg education rooted in our Lutheran faith. Over the years, the Hagfors have been leading benefactors of Augsburg University. Their lead gift in 2015 resulted in the construction of the campus' signature building, the Hagfors Center for Science, Business and Religion, in which our students—and future leaders—learn about and explore the intersections of these three disciplines."
The Hagfors Center for Science, Business, and Religion is a multi-discipline complex that opened in January of 2018 and serves more than 3,000 undergraduate and graduate students each year.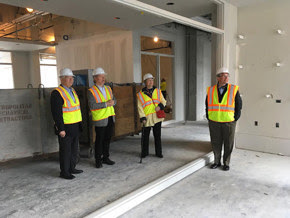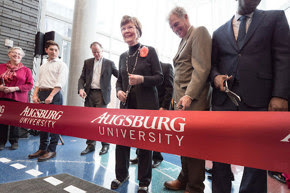 ---
Vangie's gentle and generous spirit will be missed dearly by the Augsburg community. She truly clothed herself in "compassion, kindness, humility, gentleness and patience" as we read about in Colossians 3:12.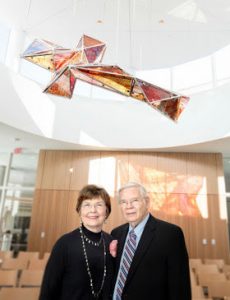 President Paul Pribbenow shared that "It is a most sad day for all of us who have come to know and love Vangie. Her historic ties to Augsburg through her father, the Rev. Elnar Gundale '33, are fittingly celebrated in the beautiful Gundale Chapel in the Hagfors Center for Science, Business, and Religion, and her deep faith was an inspiration to all of us. One of the greatest joys of my time at Augsburg has been to witness the remarkable vision and generosity of Norm and Vangie, whose legacy is forever secure in the remarkable Hagfors Center – a transformative academic building that still takes my breath away with both its architectural beauty and its impact on our students and faculty each day. Along with her family and friends, we grieve Vangie's death and celebrate a life so faithfully led."
The funeral service will be held at 11:00 AM on Monday, October 24, at Saint Andrew's Lutheran Church, 900 Stillwater Road, Mahtomedi. Visitation will be held from 3 PM to 6 PM on Sunday, October 23, at Bradshaw, 4600 Greenhaven Drive, White Bear Lake, and one hour prior to the service at church. Read Vangie's official obituary.