WEEK 3: LUTHER A. and clarette arnold
Luther A. and Clarette (Jorenby) Arnold were Augsburg graduates from the class of 1929 and donors to the "Old Science" Building. Today, we remember them with a plaque outside Science 108, but they also gav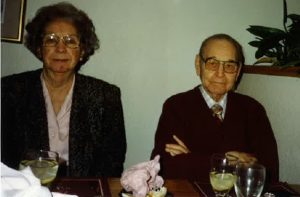 e generously to the college, including significant gifts to the Augsburg Fund, the Foss Center (where the atrium is named after them) and the Lindell Library.
We have little information regarding Clarette's career, but we know her hobbies included reading, writing, travelling and music. After the couple married in 1928, they both graduated from Augsburg in 1929 and started their lives together.  Luther then went on to receive a Masters in Philosophy from the University of Wisconsin-Madison and later his Doctorate from the University of Florida-Gainesville. His career spanned science teaching and science education from public schools to the university level, where he was a Chemistry professor and instructor of sciences at the University of Florida.
Outside academia he was the first executive secretary emeritus of the Executive Committee of the Florida Foundation for Future Scientists, served on the board of directors for the International Fair, and was an adviser for the World Science Fair. They were members of Zumbro Lutheran Church and were married for 65 years.