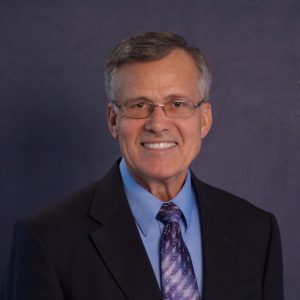 David J. Melby '68, Ph.D., is a psychologist, executive leader, professional volunteer, and advocate who embodies faithful service in true Augsburg University form.  Melby attended Augsburg, graduating in 1968 with a Bachelor of Arts in psychology and philosophy. Following his graduation, Melby attended graduate school in counseling psychology at Southern Illinois University-Carbondale, receiving both MA and Ph.D. degrees.
Melby's career centered around providing and promoting the development of outpatient community mental health, substance abuse, and developmental disabilities services for people of all ages, as well as adult residential services. In 1974, he joined Mental Health Services of Franklin and Williamson Counties, Inc. (now known as Centerstone of Illinois) as a clinical psychologist. His role expanded the following year to include that of division director of mental health services; he served as CEO of that agency from 1996 until his retirement in 2006. Prior to his retirement, Melby served six years on the board and one year as president of the Illinois Association of Community Mental Health Agencies.
One of Melby's nominators says, "His professional leadership in community mental health has made the lives of many who struggle with these issues brighter and more hopeful because of his nearly 50 years of service. David brings a selfless approach to volunteerism that inspires and supports those in our community's efforts to improve the quality of life in the communities we serve."
For almost two decades, David has served as a volunteer for the American Heart Association (AHA).  He twice served as chairperson of the Southern Illinois Heart Walk and once of a Southern Illinois Heart Gala, raising awareness regarding heart-healthy lifestyles and fundraising for heart research, education and life-saving equipment, such as Automated External Defibrillators in public places. He currently serves as a member of the Illinois Advocacy Committee of the AHA, advocating for a heart-healthy state and federal legislation.
Throughout his career, Melby has been influenced by his father's ministry and involvement in clinical pastoral counseling and the death of his infant brother, who was born with a heart defect and Down Syndrome. He was also motivated by the growing needs of his parents in their last years. He has consistently demonstrated his concern for people marginalized in society, often the poorest, sickest, and most stigmatized among us.
In retirement, David has become more involved in the work of not-for-profit and governmental agencies whose missions he supports. They include multiple terms on the Williamson County Housing Authority Board of Commissioners, including as chairperson, and on the River to River Residential Communities Board, providing independent living, assisted living, supported living, and memory care services for seniors in multiple communities across southern Illinois. He has served since 2012 on the Board of Directors of Centerstone of Illinois, one of five Centerstone state service entities that, collectively, comprise one of the largest and most influential not-for-profit behavioral healthcare enterprises in the nation. Since 2014, David has also served as a board member and, now, current board chair of the Centerstone Research Institute (CRI), based in Nashville. CRI is currently developing evidence-based best practices for addressing the national opioid crisis, developing its first Center of Excellence for the treatment of depression, and reducing the "science-to-service cycle" in the treatment of behavioral health disorders.
Melby exemplifies servant leadership and the Augsburg value of being educated to serve.  For decades, he has served his church community in many capacities, including as president of the church council for over 10 years, co-chair of the building committee during construction of a new sanctuary, and delegate to the 2013 ELCA churchwide assembly. Whether through his contributions to the field of behavioral health care or his volunteerism, David has worked tirelessly to serve his community and embodies the values we work to instill in Auggies. In his life as a thoughtful steward and responsible leader, he has used his skills and gifts to impact communities and create healthier, more fulfilling lives for all.