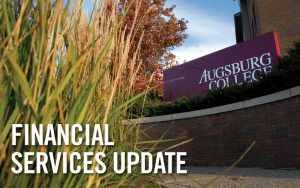 New this year, all students wanting to apply for 2017-2018 year financial aid must submit a FAFSA (Free Application for Federal Student Aid) using their 2015 federal taxes ***(not their 2016 taxes) ***. Students can complete the FAFSA online at FAFSA.ed.gov . Remember to use the IRS Data Retrieval Tool to directly import the tax information, and make sure to submit the FAFSA by signing with your FSA ID. The priority deadline for completing the financial aid application is May 1.
Registration for the summer/fall 2017 terms begin March 29. Students who have unpaid spring charges or are not up-to-date on their payment plans will be unable to register.
The last day to register for two monthly payments under Augsburg's Online Payment Plan is March 26, 2017. Please go to augsburg.edu/studentfinancial/payment-plans-and-discounts to sign up for the payment plan.
Students can make payments online by going to augsburg.edu/studentfinancial/payments . Please see the Parent Information tab at  augsburg.edu/studentfinancial for instructions on making a payment, signing up for a payment plan, and obtaining access to discuss your student's financial information, etc. Please note that we will be unable to speak with any parent/guardian that has not been authorized by the student.