This week is NCAA Division III Week, a celebration of all the wonderful things that Division III is all about. We have so much to celebrate. Congratulations to …

•  The men's hockey team and Augsburg men's hockey coach Chris Brown, who was named MIAC Coach of the Year for his leadership of the MIAC-champion Auggies. Eight Augsburg men's hockey players earned postseason honors from the MIAC.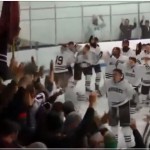 •  Enjoy a video of that magic moment when Mack Ohnsted scored in the third overtime to lift Augsburg over St. John's to the MIAC men's hockey championship, sending the Auggies to the NCAA Division III national playoffs.

•  Augsburg men's hockey goalie Jordyn Kaufer, named to the CCM Hockey/AHCA Division II-III All-America Team. Kaufer is Augsburg's 34th All-American in men's hockey.

•  Augsburg women's hockey qualified for the MIAC postseason playoffs for the fifth time in school history. The Auggies third-place conference finish was the team's highest MIAC finished since 1999-00, when the team won the conference and regular season playoff titles. See the team video.

•  Augsburg's wrestling team finished fifth at the NCAA Division III National Championships, and had four All-Americans this year.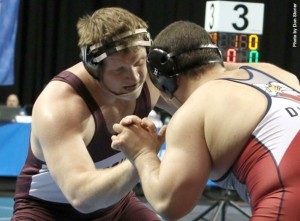 •  Augsburg wrestler Donny Longendyke qualified for a spot in this weekend's U.S. Olympic Wrestling Trials in Iowa City, Iowa.
•  Maria Loughlin (All-MIAC) and Jenna Orth (All-MIAC Sportsmanship Team), who earned MIAC women's basketball postseason honors.

•  Stan Nelson '43 will be honored with the Bud Grant Distinguished Minnesotan Award by the National Football Foundation on April 17.

•  Missy Strauch, head athletic trainer at Augsburg College, will receive the Fred Zamberletti Award from the National Football Foundation.
•  Augsburg wrestling alumni Scott Whirley '82 and Henry Gerten '98 who were inducted into the National Wrestling Coaches Association Division III Hall of Fame.

Stay tuned to Auggie Athletics for the latest. Spring sports, we're ready for you!