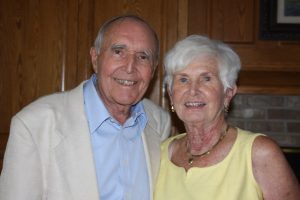 In his 88 years, Leland "Lee" Sundet has never lost sight of the basics: thrift, generosity, and, most important, Jesus. The retired industrialist and manufacturer adheres to these principles whether he is owning large companies, helping Augsburg improve its signage and redesign its logo, or pledging his most recent gift of $1.5 million to the Rochester campus.
Sundet learned the basics early, growing up in Spring Grove, Minnesota, where the Norwegian townsfolk all attended the big Lutheran church. "My father died when I was six months old and my mother was quite ill, so she had to sell everything she had to pay the bills. She got $7.43 a month, and of that, 74 cents went to the church," recalls Sundet, who has embraced tithing ever since.
Optimism has also characterized his life. The youngest of three children, he was "the spoiled baby of the family, and I liked that," he says. "My wife, Louise, was also the youngest in her family, and she liked it, too." After earning an agriculture degree from the University of Minnesota in 1951, Lee owned several companies, including Century Manufacturing, Goodall Manufacturing, Britt Manufacturing, and Fountain Industries. His business acumen earned him such honors as Minnesota's Small Business Man of the Year and the University of Minnesota's Outstanding Achievement Award (2001).
As they prospered during peak career days, these two staunch Lutherans made philanthropy a core value. The Sundet Foundation has made large grants to Lee's alma mater as well as the Luther Seminary, the Alliance Defense Fund, the Minnehaha Academy, the Courage Center, the Prison Fellowship, and others. And when the president of Augsburg approached him about joining the board, he didn't hesitate.
"We had more than one employee in our company who had gone to Augsburg, so I knew all about it," says Sundet, who served as a trustee from 1984 to 1998. "It was wonderful working with then-president Chuck Anderson. He was such a good listener. We also had very good board members. You always have setbacks, of course, but the board got things done."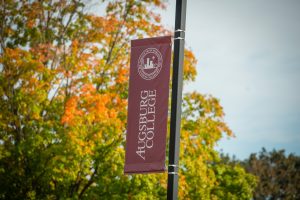 Sundet was a strong supporter of such programs as Weekend College. Complaining that 80% of people in Minneapolis at that time didn't know where Augsburg was or what it stood for, he helped form a marketing committee and was instrumental in choosing a new "cross A" logo. He remains steadfast in his commitment to religion and religious freedom as essential to education.
"I also believe in old-fashioned discipline—'don't spent it till you've earned it.' That's a major problem today. When you borrow money, then you spend more money. In my day, everybody paid their own way," he says. "Some students still pay their way all the way. It's fun listening to them talk about their sacrifices, and hear how proud they are because they don't owe anybody. First you give, then you save, then you live on the rest."
Doing their part to ease student debt, the Sundets have sponsored a business scholarship at Augsburg since 1992. They also support the Youth and Family Ministry and were early proponents of the Augsburg campus in Rochester, where companies such as Mayo Clinic share their values. "Mayo is great planning organization, and they do a lot for people. They have a good ethic and tend not to borrow a lot of money. They tend to give and they tend to save," Lee says.
"I have met people at Mayo who have gone through the Augsburg program, and I've seen what's it's done for them. It's a wonderful thing," he adds. "It wasn't easy to get it started, but it's fun to look back on. Augsburg has come a long way, and I would love to see it grow there in Rochester."
— Cathy Madison