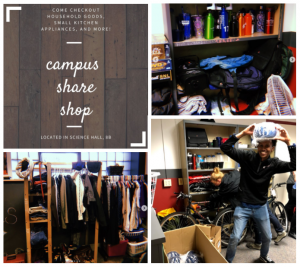 Augsburg's ShareShop is officially up and running! Made by students for students, the ShareShop is a place to checkout household goods, small kitchen appliances, sheet sets, etc. Checkout periods range from short-term to semester-long, depending on the item. We built the ShareShop in an effort to help students save money, reduce consumption of material goods, and provide a space that fosters community and informal learning about sustainable practices. This project was proposed by Environmental Studies and Urban Studies Students and made a reality by those students and with support from many people and departments across campus. It is currently operated by the Environmental Stewardship team.
In 2021, we launched a new Pop-Up location in partnership with the Strommen Center and Campus Kitchen. The Pop-Up is a satellite site of the ShareShop and Campus Cupboard where students can get free non-perishable food, school supplies, clothes, and professional attire.
The Free Table is located outside of the ShareShop. The items on the table and rack are available for students to take without needing to check them out. Please only donate items to the ShareShop during its open hours.
MoveOut! Starting in the Spring of 2022, we will have our inaugural MoveOut in partnership with Residence Life. This will be an opportunity for students moving out of the dorms to donate any small appliances, furniture, fans, kitchenware, clothes, etc. to the ShareShop and saving it from going into the dumpsters and city incinerator. Look for the green bins during the month of April!
Follow us on Instagram and Facebook for the latest updates.
The Details:
Where?
ShareShop: Science Hall, 8B (across from the Free Table)
Pop-Up: Strommen Center (Christensen Center, Suite 100)
When?
ShareShop:
Spring Semester 2022: Mondays & Wednesdays 9am-5pm
Summer 2022: Closed (email environmentalstewardship@augsburg.edu for an appointment and/or to donate)
Free Table is open year-round Monday-Friday 7am-7pm (Science Hall building hours)
Pop-Up:
Spring Semester 2022: Monday-Friday 9am-4pm
Summer 2022: TBD
What?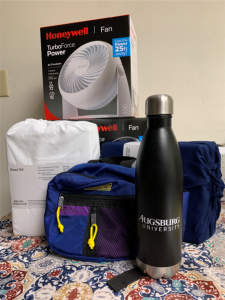 Current items to borrow* include:
Fans (desk size)
Pots & pans
Camping equipment
Sheets, towels, & other linens
Backpacks
Current items for free include:
Clothes
Professional clothing**
Water-bottles
School supplies
*Only available at ShareShop
**Only available at the Pop-Up
COVID-19 Guidelines
Please follow current Augsburg University Covid-19 protocols regarding social distancing and masking.
Please do not come to the ShareShop if you experiencing symptoms and/or have tested positive for Covid-19.
Surgical masks are available upon request.
Hand sanitizer is provided.
High-touch surfaces are cleaned regularly.
Looking to donate?
We of course accept donations during our open hours at the ShareShop! We are primarily looking for anything a college student would have use for. We do not accept any broken items, unclean bedding, or dirty dishes. Current donation requests:
Desk fans
Kitchen items
Sewing machine
Sewing kit
Blenders
Mixers
Clean bedding
Questions? Comments? Concerns?
We value your feedback! Email us at environmentalstewardship@augsburg.edu