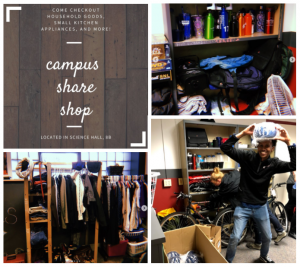 Augsburg's Campus ShareShop is officially up and running! Made by students for students, the ShareShop is a place to checkout household goods, small kitchen appliances, sheet sets, etc. Checkout periods range from short-term to semester-long, depending on the item. We built the share shop in an effort to help students save money, reduce consumption of material goods, and provide a space that fosters community and informal learning about sustainable practices. This project was proposed by Environmental Studies and Urban Studies Students and made a reality by those students and others with support from many people and departments across campus.
Where?
Science Hall, 8B (across from the free table, in the same room as Campus Cupboard!)
When?
Open Hours are shared with the Campus Cupboard foodshelf and change every semester depending on student availability.
Looking to donate?
We accept donations during our open hours! We are primarily looking for anything a college student would have use for, such as a sewing machine, sewing kit, blender, mixer, bedding, etc. We do not accept any broken items, unclean bedding, or dirty dishes.
Questions? Comments? Concerns?
We value your feedback! Email us at shareshop@augsburg.edu