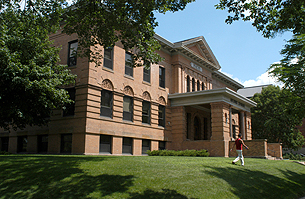 Being careful stewards of our own grounds and buildings means thinking carefully about daily practices. Surrounding Minneapolis's first public park (Murphy Square), Augsburg University holds tightly to a long tradition of serving as a space to enjoy nature in the midst of the city.
Natural landscaping initiatives build on that legacy. A campus garden offers natural beauty, bountiful harvests of vegetables and also embraces the diversity of our friends and neighbors in the Cedar-Riverside neighborhood. A green roof on our new Hagfor's Center for Science, Business, and Religion is an example of how buildings can teach daily environmental stewardship and make economic as well as ecological sense.
Careful assessments of campus wastes, water, and energy use have led our campus to transform its physical plant. Facilities Management continues to upgrade water fixtures throughout campus to reduce water use without inconveniencing the community. The switch to energy-efficient illumination in buildings throughout campus reduces Augsburg's reliance on off-site sourced electricity.
Over the last several years, the Augsburg University Facilities department has been making changes to buildings on campus to reduce the amount of water and energy used.
Water conservation
New fixtures in Anderson Hall have saved millions of gallons in water consumption in that building alone.
New water fixtures in other campus buildings reduced water consumption across the entire campus by 2.25 million gallons from March 2006 through October 2006.
Steam water conservation
Where steam is used on campus, improvements have been made to reduce the amount of steam (and therefore, water and energy) needed. Insulation in steam vaults prevents heat loss and reduces consumption. In addition, new water heaters use less steam and allow improved temperature control in the hot water systems. Improved temperature control also means less steam is needed.
Energy conservation
Across campus, lighting fixtures are being upgraded to LED bulbs and fixtures which require less electricity to power them. Ventilation fans have been fitted with variable-frequency drives, allowing fan speed and electricity consumption to be reduced when a higher horsepower is not necessary.
In addition, tune-ups on campus boilers increase the boiler efficiency resulting in lower use of natural gas for those units.