As members of the Augsburg community we are expected to demonstrate good stewardship in managing the resources in our care.
The goal of the Recycling Program is to enlist the entire Augsburg community in the recycling effort. We welcome your suggestions, questions and concerns about the recycling program. For information and to request special pick-ups, please call Custodial Services at x1640.
Where to recycle
Make recycling a part of your daily activities. With only a little planning, recycling is as easy as not recycling.
Single-stream recycling containers are located in all buildings on campus, including each dorm room, and outside. In most buildings, recycling containers are located in central locations in hallways, lobbies and office areas.
Centrally located recycling containers can be found in all residence halls:
Luther – recycling bins are located in each laundry room
Anderson – recycling containers are located under the recycling chutes
Mortenson Hall – recycling carts are located in the basement
Urness Hall – small recycling containers can be found on each floor and utility carts for cardboard and general recycling can be found in the basement
Oren Gateway Center (OCG) – recycling chutes and recycling bins for cardboard are made available in each waste/recycling room located on each floor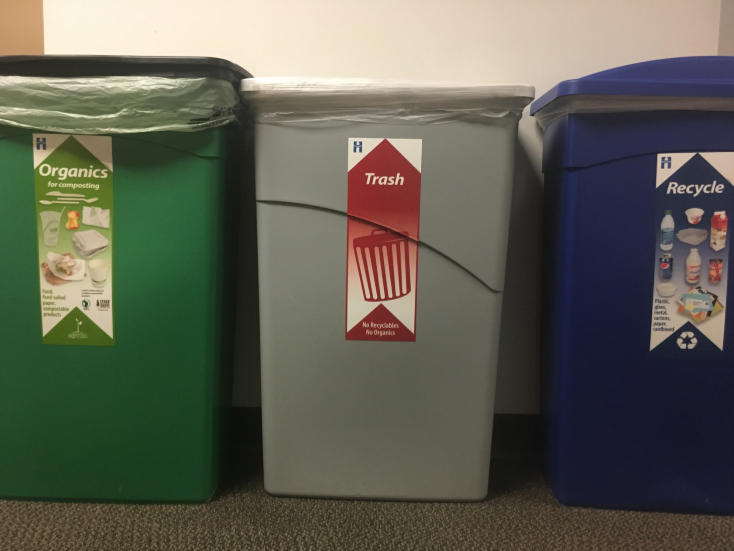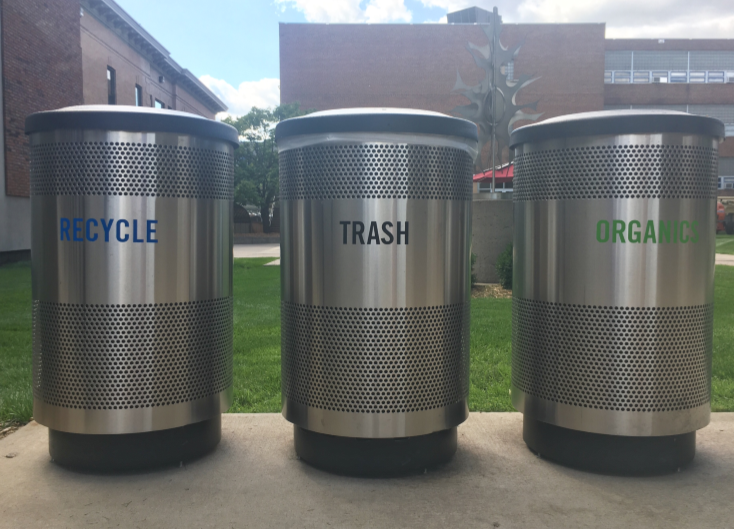 What to recycle
Learn more from the City of Minneapolis!
Cartons
Rinse:
Milk cartons
Juice boxes
Soup, broth, and wine cartons
NO: Paper or styrofoam egg cartons
Metal
Rinse:
Food and beverage cans
Aluminum foil and trays
Decorative tins and pie pans
NO: Paint cans or containers that held hazardous substances such as paint thinner and automotive fluid
Paper
Mail, office, and school papers
Magazines, newspapers, and inserts
Phone books
shredded paper in closed paper bags
Books (with hard covers removed)
Boxes:

Cardboard
Cereal, cracker, shoe, and gift boxes
Refrigerated food boxes
Toothpaste, medication, and other toiletry food boxes
NO: Paper ice cream tubs or coffee cups (Look for compostable coffee cups!!)
Glass
Rinse and leave lids on jars:
Food and beverage bottles and jars
NO: Drinking glasses, window glass, ceramics, or mirrors
Plastic
Rinse and leave caps on:
Bottles and jugs:

Water, soda, and juice boxes
Milk and juice jugs
Ketchup and salad dressing bottles
Dishwashing liquid bottles and detergent jugs
Shampoo, soap, and lotion bottles

Cups and containers:

Yogurt, pudding, and fruit cups
Disposable cups and bowls
Margarine, cottage cheese, and other containers
Produce, deli, and takeout containers

Packaging:

Clear packaging from toys and electronics
NO: Plastic bags (return to store such as Target), stryofoam, or containers that held hazardous substances such as motor oil or antifreeze
Cardboard Cans
Rinse:
Chips, nuts, and other snacks
Frozen juice and refrigerated dough
Powdered drink mixes and baby formula
Powdered cleaners
NO: Automotive grease or wax containers
Notify Custodial Services if you need a special pick-up. For example, you may have large shipping cartons or wish to recycle boxes of old catalogs or brochures.
Batteries and Ink Jet Printer Cartridges
Although some places no longer consider alkaline batteries to be hazardous waste, Hennepin County and the City of Minneapolis are still recycling them to keep potentialy hazardous materials out of landfills, so Augsburg is following this higher standard. The following batteries can be recycled in the box on the Re-Use table in the lower level of Christensen Center:
Alkaline or pile alkaline
Button batteries
Carbon zinc (CZn)
Lithium (Li)
Lithium-ion (Li-ion)
Mercuric oxide
Nickel cadmium (Ni-Cd)
Nickel metal hydride (NiMH)
Nickel zinc (NiZn)
Zinc air
All types of ink jet printer cartridges are recyclable and can be remanufactured. They can be dropped off at places like Target or Best Buy.
Reusable Office Supplies
Drop off surplus office supplies at the ReUse Table in lower level Christensen. Examples of reuse items include:
file folders
ring binders
pens & pencils
index tabs
scissors, etc.
Feel free to take what you need. Given tight student or office budgets, this can save real money!
MANAGING WASTE: the unseen recycling program
While we recycle those materials that you expect, we also recycle many things you may not be aware of:
Facilities Management recycles old appliances, carpeting, auto batteries and some scrap metal.
Yard waste (i.e., grass clippings, leaves, branches) is kept in a separate dumpster for composting.
We have had tremendous success in recycling Augsburg's cast-off furniture. Schools, shelters, and other charitable organizations have benefited from these reusable items.
IT recycles its old computers through a service that extracts the metals, after salvaging parts.
In addition, certain items must be kept out of the usual waste stream and disposed of in ways that are environmentally responsible. This usually involves using specially licensed contractors:
Burned out fluorescent light bulbs are taken to a special disposal site that extracts the mercury; hazardous waste that otherwise would end up in landfills and possibly in ground water. In the past those same fluorescent lights used ballasts containing PCBs. Such ballasts are also kept out of the waste stream and processed to render them less harmful to the environment.
Disposal of hazardous chemicals, bio-hazardous waste, and lab sharps (syringes, glass slides, etc.).
Even though the task of managing waste is complex, there are definite benefits to the environment and to the Augsburg community.
 WASTE PREVENTION: REDUCE, REUSE
The essential point of waste prevention is to reduce the amount of waste we generate in the first place. Waste prevention conserves natural resources, raw materials, and land otherwise needed for landfills. Waste prevention is also its own direct economic reward.
WASTE PREVENTION TIPS
Here are just a few of the simple things you can do to help. Please send us your tips so that we can pass them along to others.
Make two-sided copies. This saves money as well as paper.
Reuse the blank side of office paper for jotting notes.
Avoid printing on dark or brightly colored papers.
Reuse envelopes for sending on-campus mail or use multiple-name routing envelopes.
Use your own ceramic coffee cup instead of Styrofoam.
Share newspaper and magazine subscriptions with friends and colleagues.
Send correspondence through e-mail: avoid "snail-mail".
Purchase quality goods; they will last longer and be more economical in the long run.
Offer to give away what you no longer need; one person's trash may be another's treasure.
Close the recycling loop by purchasing products made from recycled materials.