"The Augsburg community is deeply committed to what it means to build a sustainable urban environment. We are uniquely situated in a city neighborhood and are privileged to have a variety of opportunities to explore the interconnectedness of urban life with both human and natural forces. Our relationships with our diverse neighbors, with the Mississippi River, and with other neighborhoods in our vibrant city are opportunities for learning, for civic engagement, and for faithful service. We are proud of what we do to honor sustainability, but also deeply aware of the need for ongoing vigilance and wise stewardship of the gifts of our environment."

-President Paul C. Pribbenow
 What is Environmental Stewardship?
Environmental Stewardship at Augsburg University is an intentional commitment to responsibly nurture all aspects of sustainability – environmental, economic, social, and personal wellness – on our campus, in our neighboring community, and among our institutional partners. It includes stewarding a culture of sustainability alongside of our most precious resources –  Air, Land, Water, Built Environment, People, Food, and Energy.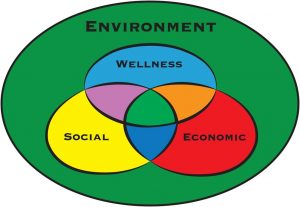 Augsburg is grateful for the leadership and generosity of our colleagues at Bemidji State University who developed and shared this model for sustainability we now hold. It recognizes the interdependence of personal wellness, society equity, economic feasibility, and environmental well-being.
Augsburg's Role
As a Lutheran university situated in the city, Augsburg imagines environmental stewardship as central to its mission. A longstanding commitment to service means we pay close attention to our surroundings locally and globally. Featured in our curriculum and grounded in our daily practices, attention to ecological concerns shapes much of our work both on and off campus.
Augsburg has an extensive environmental history beginning much earlier than 2009, when the university joined the Association for the Advancement of Sustainability in Higher Education (AASHE).  Augsburg continues to work towards improving the environmental impact of the university and is dedicated to meeting the goals laid out in our climate commitments and other initiatives.
Check out our blog for the latest environmental news and events on and around campus.