The structure of the Gundale Chapel, which is suspended from the third-story roof of the Hagfors Center lobby, is taking shape. See the photos below showing the structural steel for the lobby and chapel. Additional photos are available on the Photo Gallery page.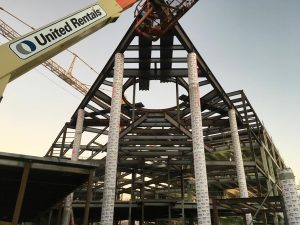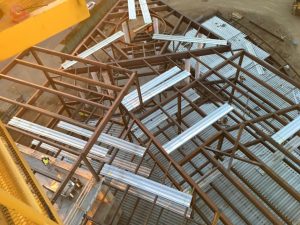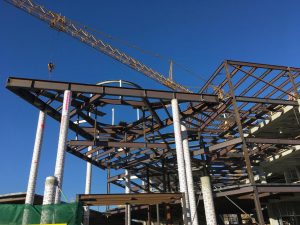 Construction Site Work
Construction work this week includes the following:
Suspended chapel and lobby. The structural steel for lobby roof and the chapel suspended from it are now visible. Final detailing of this steel will continue this week. Concrete pours on the second floor of the lobby area and the adjacent flexible classroom space are scheduled this week. In addition, the canopy columns, directly outside what will become the main door, have been poured, and the structural steel for the canopy will begin to be built this week.
Skyway construction. The concrete pours for both skyway piers are complete. This week, construction crews will begin removing the glass and metal facade of the second and third levels of Lindell Library to prepare the structural connection for the skyway. The steel structure for the skyway itself will begin to be built, within the construction site, this week as well.
Exterior precast brick siding. Installation of the precast brick shell enclosure will begin on the east side of the building this week. Crews will use the crawler crane on site for this work. Installation of the exterior precast will be completed in a matter of weeks, so, very soon, the interior of the building will no longer be visible from the street.
Wall framing. Interior wall framing is underway on all floors of the north wing and prep work is starting for interior wall framing in the west wing.
Construction elevator. The construction elevator on the north side of the building will be tested this week and then become operational for the movement of workers and materials to various building levels.
Upcoming parking restrictions on 21st Avenue South and South 7th Street: During the week of November 21 (Thanksgiving week) portions of 21st Avenue South and South 7th Street will be closed for the Topping Off celebration on Tuesday, November 22, and installation of the skyway over the Thanksgiving break.