It's the week before spring break at Augsburg, and progress on the Hagfors Center continues to advance, with exterior work on the lobby and suspended chapel providing a vision for how the main entrance to the building will enhance the campus.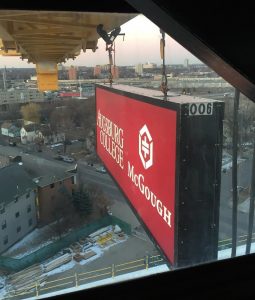 Construction Site Work
Installation of the framing for the lobby has begun on the south side of the building.

Framing for lobby curtainwall. Crews have begun installing the framing for the glass curtainwall on the three-story lobby area of the building.

Stairwell work. Curtainwall glass installation is underway on the north stairwell this week.
Framing and glass for the chapel. The glass installation around the cupola of the chapel is done. The photo at right shows the beam that was signed at the ground breaking ceremony and was lifted into place during the November topping off ceremony. When construction is complete, the beam will be hidden from view by the chapel ceiling, but McGough Construction strategically placed it in a location that did not require covering the signatures with fireproofing.
Brick wall on the flexible classroom. Work on the hand-laid brick wall on the south side of the building continues this week. After the wall around the flexible classroom is complete, brick work will continue near the main entrance.
Interior work. Interior work this week includes drywall installation on the second floor of the north wing and ceiling grid installation in the basement.
Skyway painting and street closure scheduled next week. The steel structure for the skyway was installed last year. Beginning Monday, March 13, McGough Construction will be painting the steel structure for the skyway that was installed last year. Depending on weather, the painting work could possibly continue into the weekend of March 18-19. This work will involve the closure of 21st Avenue South between South 6th and South 7th streets. Given that some of this work may need to be completed on the weekend, an afterhours work permit is required from the City of Minneapolis. Notification is part of this permit process. Any complaint regarding this work can be received by Minneapolis Information and Services at (612) 673-3000 or by calling 311 for phones with a 612 area code.