Finishing work in the Hagfors Center lobby is making rapid progress as continued wood panel installation, terrazzo art work, and lighting placement are being diligently undertaken by crews and supporting staff. For a look at last week's progress and this week's priorities, continue reading below.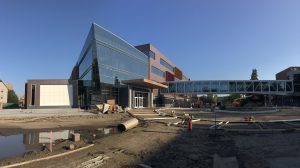 Construction Site Work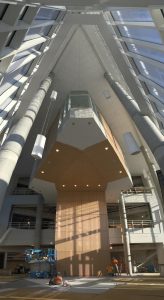 The roundabout. A blend of regular and colored concrete will be poured this week to form the walkways circling the roundabout (photo, above).
Interior finishes. Work in interior spaces continued last week as bathrooms were tiled, acoustical ceiling tiles on the first level offices were installed, and lighting was hung in the main lobby (photo, right).
Grow rooms. 18-feet by 15-feet grow rooms (similar in form to walk-in freezers), were installed in the grow rooms for the biology department. In the next two weeks, the project will finish with the installation of special lighting and shelves (photo below, left).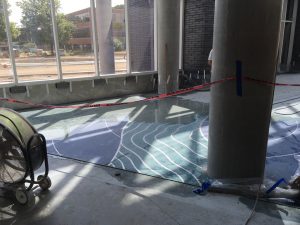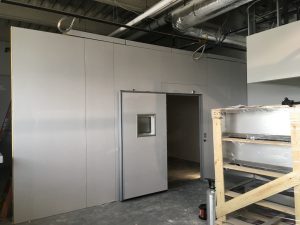 Terrazzo. Finishes on the terrazzo floor are taking place this week (see photo of last week's progress below, right). Next week we can anticipate a dramatic before/after picture highlighting the work done in the final phase to complete the installation.
Exterior work. Foundational landscape work continues as the sprinkler irrigation system for planting is embedded in the green space surrounding the Hagfors Center.
Mechanical missioning. Piping for the heating system was recently cleaned and is being filled with a water mixture. Testing, balancing, and commissioning of this system will then begin.