Everything has a history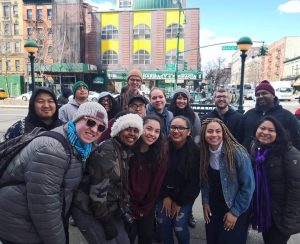 Everything and everyone has a history. There is nothing more human than to wonder about how and why things came to be. Understanding the past helps us make sense of the present. It also helps us to envision different futures.
Wecultivate a critical understanding of past and present that will help students become thoughtful, informed, and engaged participants in the world. Students who major in history ask careful questions, consider multiple perspectives,analyze information, seeexperiences in context, and use their imagination. In doing so, they hone the mindset necessary for success in the 21st century. They enrich their own lives and develop the skills to help them make significant contributions to the broader world. After all, history is to a community what memory is to an individual—it is the foundation of identity.
In his famous essay, "Why Study History?" Peter Stearns shows that historical knowledge promotes the understanding of diverse peoples and societies and how our present societes came to be. He argues that history contributes to our moral understanding and is essential for good citizenship.  Stearns' argument makes clear the connection between historical study and Augsburg's mission to educate students to be informed citizens, thoughtful stewards, critical thinkers, and responsible leaders. 
The study of history empowers students to pursue lifelong vocations in a wide range of for profit and non-profit venues. Traditionally, history graduates found careers in law, education, or cultural institutions. Today, they also work in media and communication, management,manufacturing, information technology, administration, finance, social services, data management, and sales. Many pursue advanced degrees—not only in history, law, and education, but also in public policy, the health professions, and business.
What can you Do with a History major?
Lots of things!  Check out this list of famous history majors.
Upcoming Events
with Professors Bill Green and Michael Lansing, in conversation with LaJune Thomas Lange
October 12   7:30 pm
Register online for the Zoom presentation