Digital Walking Tours
To make our region's history more legible and accessible to the public, Augsburg history faculty and students have collaborated with community partners to develop a number of well-received digital walking tours.
Muslims in Minnesota
In this CIC grant funded project, "Mirror for the Self: Oral Histories of Muslims in Minnesota," students are working with Professor Maheen Zaman to build an archive of life stories and local histories of Muslim Minnesotans. These stories will serve as mirrors for introspection and representation.
Dr. Zaman reflects:  "We invite all Minnesotans to reflectively engage these narratives to both sincerely learn about the lives of others and deepen one's self-knowledge. For our archive's narrators, the pursuit of knowledge of the self leads to knowledge of God.  We hope they provide vital cultural representation to communities under siege so that in the experience of being mirrored in the public sphere they may overcome the paralysis of double-consciousness and strive toward wholeness of self and community."
Funding was provided by the "Humanities Research for Public Good" grant from the Council of Independent Colleges, which supported several dedicated student researchers. Their contributions will produce a robust and living archive for future public programming and projects, e.g. K-12 pedagogical resources, scholarly interpretations, artistic productions, and public exhibits.
Our official, local community partner is the Islamic Resource Group (IRG).
Historyapolis Project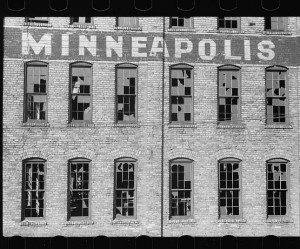 In 2013, the Department of History welcomed the Historyapolis Project, the innovative public-facing history of Minneapolis directed by Dr. Kirsten Delegard, then departmental Scholar-in-Residence. This history of Minneapolis seeks to make the city's complicated past relevant to our own times.
Visit the project's Facebook page to find out more about Historyapolis.
This collaborative work led Kirsten to found the renowned Mapping Prejudice Project, which is now based at the University of Minnesota.