Historyapolis Project comes to Augsburg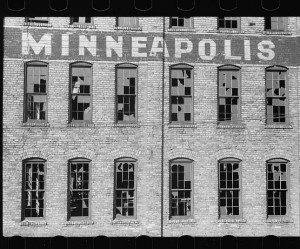 The Department of History welcomes the Historyapolis Project, beginning in the fall of 2013. Historyapolis is the brainchild of Dr. Kirsten Delegard, departmental  Scholar-in-Residence. This new history of Minneapolis seeks to make the city's complicated past relevant to our own times.
Kirsten Delegard is an independent historian and author who lives in Minneapolis. She holds a Ph.D. in American history from Duke University and recently published Battling Miss Bolsheviki: The Origins of Female Conservatism in the United States (Philadelphia: University of Pennsylvania Press, 2012). Delegard is respected across the country for her work on the history of women and politics in the United States. Here in Minnesota, she is known for her contributions to Mary Lethert Wingerd's North Country: The Making of Minnesota (Minneapolis: University of Minnnesota Press, 2010). Delegard served as image curator for the book, which married accessible writing and lavish illustrations to revisit some of the thorniest episodes in the region's past. Following this example, the Historyapolis Project will produce anaccessible and comprehensive narrative of the city's history. It will be published by the University of Minnesota Press. Visit the project's Facebook page to find out more about Historyapolis.
Dr. Delegard will serve as departmental Scholar-in-Residence for five years. During that time she will have occasion to teach a public history-oriented version of HIS195: Topics in History or HIS 225: History of the Twin Cities. Through these courses and other opportunities, she hopes to include Augsburg history majors in her project.
Welcome Kirsten, and Historyapolis!