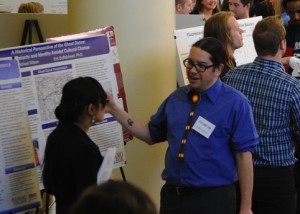 Augsburg students have many opportunities for doing history beyond the classroom.  If you are a current student, just talk with your advisor in the History department to set this in motion.
URGO: Every summer, Augsburg's Office of Undergraduate Research and Graduate Opportunities (URGO) sponsors student research directly with faculty. This gives students 10 fully-funded weeks of time to pursue their own historical interests, or to work with a faculty member on one of their projects. Here's a sample of recent projects:
Kay Carvajal Moran, "Oral Histories of Organizations Supporting Migrant Laborers During the Covid 19 Pandemic" (2021)

Grant Berg, "Fight for Your Right: Black St. Paul's Struggle for Democracy at Home and Abroad During World War II" (2017)

Nicholas Stewart-Bloch, "Changing With the Times: Midland Cooperative and the Shifting Political Economy of America" (2016)
The Minnesota Historical Society (MNHS) offers many internships for our students. Augsburg currently hosts the ACTC Museum Fellowship Program, a semester-long course on the ins-and-outs of museum work taught by a wide range of museum professionals, followed by a semester-long internship advising students in the public schools on their History Day projects. The MNHS also offers regular internship opportunities for our students, including working on History Day.
Hennepin History Museum (HHM):  The Department maintains strong ties to HHM, where students can find internships and volunteer activities.  In 2019, students began developing digital walking tours for the museum in a project-based partnership.
Zyzzogeton, The Last Word: Augsburg's annual celebration of student research, Zyzzogeton (named for the last word in most dictionaries),  provides an opportunity for students to share their research, whether from an URGO fellowship or an off-campus internship.
There are many more research and internship opportunities, both locally and nationwide. We can help you find the placement that's right for you.