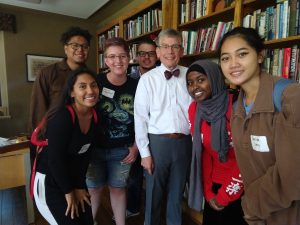 The Auggie Plan is designed for Minnesota students who want to begin their college experience at a community college but are seeking a clear, attainable path to a four-year degree.
The Auggie Plan is a "2+2" plan that provides direction in course selection, ensuring students finish at the community college within 2 years, and then complete the full degree at Augsburg within 2 years.  The plan gives students the opportunity to access advising support at both colleges during their entire term of study. Advisers can help in major course selection and advanced degree planning. Students are invited to special events at Augsburg and have access to unique programming offered at the community college.
Students meet with the Auggie Plan director from Augsburg before starting, or during their first semester, at one of the four community colleges to sign up for the plan.
The 2-yr plan lists the required courses for the program, including some electives for majors.
Students complete 60 credits of course work (including the MnTC) within 2 years of high school graduation.
Students maintain a GPA of 2.75 or higher.
When students transfer to Augsburg, all courses will transfer and meet the general education requirements for the 4-yr degree. Students can complete their degree within 2 years at Augsburg in one of 45 major options.
If students are PELL grant eligible, and meet the requirements of the Auggie Plan, they can qualify for the Auggie Plan scholarship. This scholarship utilizes the PELL grant, MN grant, and $7,500 in student loans for junior and senior year (per year). The remaining tuition is covered by Augsburg's tuition grant program.
If you are interested in the Auggie Plan, please reach out to the Transfer Counselor that represents your school.