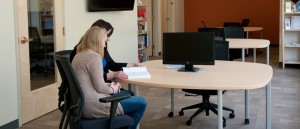 You've been to college before, but every school has its own way of doing things. Transfer SOAR, is the orientation for Day transfer students, and will get you moving in the right direction. You should also connect with a counselor in the Enrollment Center in Sverdrup Hall. They can assist you with payments, registration, financial aid, and all the business of being an Auggie.
There are many ways to get involved in campus life. Can you write? Are you into Medieval history? Do you speak Spanish? Check out our campus organizations to find a club or group to join like Student Government, KAUG radio, and the student newspaper to name a few . In your free time, we encourage you to attend an athletic event or see one of our great plays or concerts offered throughout the year. Use your Augsburg ID for free or discounted tickets!
For Commuters
Parking
If you're a commuter, we know one of your most important questions is, "Where do I park!?" These are our suggestions:
Purchase your parking permit from the Department of Public Safety.
Get out your campus map. If you don't have one in a folder or an envelope, check out our handy interactive map.
Lot L, which is by the football field on the east side of campus, is just off the Cedar-Riverside exit from I-94. Park there and walk between the field and Kennedy Center.
Did you lock your car? While you're double checking, make sure to put your laptop, gym bag, and other valuables in the trunk.
Lot L is the best lot for commuters, and there is almost always an open space. If you make it to campus early then you may be able to park in Lot D (a.k.a. the Tennis Court lot) or Lot K by the Ice Arena. Your commuter permit also allows you to park in the designated areas on 21st Ave. S. and 8th St. S. Be sure you're on the blocks marked with the Augsburg Commuter Parking signs. All other street parking is monitored by the city of Minneapolis, so you may get a ticket if you are parked there beyond the posted times.
Eating
Augsburg dining services provide quick and satisfying dining options throughout the day and offers several flexible meal plans.
If you want to walk a bit, there are many great restaurants close to campus like the Afro Deli, Davanni's, Jimmy John's, and Starbuck's.
Storing your Stuff
If you don't want to haul around 20 pounds of books, there are lockers available for commuters. Reserve a free locker in the Science building by contacting Campus Activities and Orientation at 612-330-1488. Or drop a quarter into one of the red lockers located on the second floor of Christensen by the ATM, and it's yours for the day.