Each year students apply to participate in off-campus summer research programs, where they are paid to conduct research with some of the nation's top academics at universities, labs, or institutes. There are programs designed for students in the sciences and social sciences and they often include a research stipend and housing. These off-campus research opportunities provide students with the chance to meet and work with faculty who are in the top of their field. It additionally provides students with the opportunity to explore a new city, whilst exploring possible career routes post-graduation.
Winter break is the perfect time to check out URGO's list of off-campus summer programs to find those that best fit your interests, and to start on the applications.
Then, join URGO for our Off-Campus Summer Research Application Workshop, Saturday, Jan. 14 10a.m.-2p.m in Sverdrup 201 to get individualized feedback and make progress on your applications. URGO staff will also be available for appointments to advise you through this process.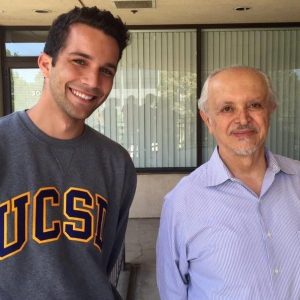 Auggie conducts summer research at UC San Diego: After a competitive application process, Michael Alves '17, was accepted into a Research Experience for Undergraduates (REU) at the University of California, San Diego (UCSD) funded by the Center for Aerosol Impacts on the Climate and the Environment (CAICE).
"My interest lies broadly in Atmospheric Chemistry, leading me to dedicate a lot of my time to literature reviews in this area. This led me to a couple names fairly frequently. Dr. Kim Prather and Dr. Vicki Grassian are prevalent figures in the atmospheric chemistry field and I genuinely wanted to work with both of them. Thus, I applied and received funding to attend the 2016 American Chemical Society Conference in San Diego from Augsburg College so that I could meet with the Grassian Research Group and learn more about the work done at the labs in UCSD. My intuition about these labs was correct and I ultimately decided that it was a great opportunity for my development as a researcher."
Alves transferred to Augsburg College after receiving his Associates degree from Minneapolis Community Technical College in the spring '15, and, after deciding against applying to bigger schools like the University of Minnesota, applied exclusively to Augsburg. "Without AugSTEM, I wouldn't be coming to Augsburg," said Alves. "I really like it here. I would rather choose this over anything else."
Alves is currently working with Professor Dave Hanson in a project related to atmospheric chemistry. Identifying his passions and interests allowed him to receive mentorship from Dr. Hanson early on. "I got hired by Dave for the both the 2015-2016 and 2016-2017 academic year, from his own funding," said Alves. "When I am not in classes, I fill my time working about 10-20 hours a week for Dr. Hanson on a few projects during the academic year, namely the building of a mass spectrometer and the conducting of sulfuric acid nucleation measurements."
Additionally, Alves is a McNair Scholar, as well as an AugSTEM scholar. "Sitting in my courses at Minneapolis Technical and Community College (MCTC), I never would have imagined that I would be trying to get my PhD in chemistry at the University Of California San Diego (UCSD). As a first-generation college and low-income student, the option of a PhD was not a real option until I transferred to Augsburg College as a McNair Scholar and had the opportunity to devise my own research proposal." Alves also serves is the President of the Augsburg Chemistry Society where his main goal is to do outreach events at community colleges and public high schools in order to provide information on opportunities that they may be unaware of.
Alves will be graduating from Augsburg in the spring of 2017, with a Bachelor's of Science and Honors in Chemistry. We, at Augsburg collectively wish him the best as he continues with his journey towards a PhD in Chemistry!
Written by Hilena Frew '17