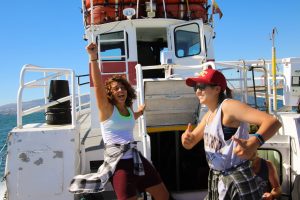 If you were searching Augsburg for a future marine biology PhD student or a future Fulbright English Teaching Assistant, you might first look in Hagfors, the Science Hall, or Lindell Library. Rachel Frantz '17 is a biology department alum now pursuing both of those dreams, but you could find her all over campus in her time as an Auggie. Not only did she study and tutor in Lindell and the Science Hall, Rachel also led the lacrosse and cross country teams as a captain in the Kennedy Center, sang with the choir in the Anderson Music Hall, represented her class as part of student government in Christensen, and threw mugs and sculptures as an avid ceramics student the Old Main studio.
When it came time to make post-graduate plans, then, it makes sense that she wanted to keep her options open.
Rachel is currently overseas in Sarawak, Malaysia as a Fulbright English Teaching Assistant (ETA), but from September through December of 2017, she completed her first semester as a graduate student in marine biology at the University of Southern California (USC). We caught up with her to ask a few questions about how she decided on and pursued these paths and what advice she has for other Auggies on their way.
What led you to apply for Fulbright? For your PhD? Why both at the same time?
I applied for Fulbright after Kirsten emailed me about the program the summer before my senior year. To be honest, I had not even considered applying! I figured a program that involves teaching English abroad would only be interested in people obtaining education degrees or English degrees. My sights were set solely on grad school. I knew I wanted to continue my education in animal sciences and I was ecstatic to finally decide on marine biology.
The staff in the URGO office encouraged me to apply to anything I thought might be a good opportunity. Even if this meant twice the work, I am so glad they pushed me to apply. I first heard of my grad school acceptance and cried tears of joy in my biochem lab. A FUTURE! WOO! I figured the Fulbright application was pointless and debated quitting the app several times, but here I am, writing this interview from a small coffee shop in Sarawak, Malaysia.
Explain the process of working on your applications. Were there departments, groups, clubs, or activities at Augsburg that made a difference in your thinking or assisted with your app?
The grad school apps were all relatively similar. Each required a personal statement and often one other essay along with general academic information. With PhD programs, you have to first secure an "in" with a professor at your desired school, so start reaching out early! I had several phone conversations before I sent in any applications. Fulbright was similar but allowed for more expression of personality rather than academics.
URGO was the greatest resource for me throughout the application process, but my professors (namely biology professors) were equally as supportive. Everyone I asked was happy to help write a letter of recommendation and a few offered to help read through my essays for grad school.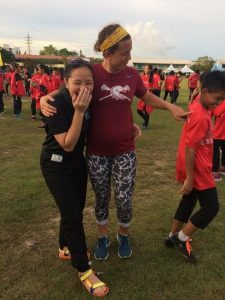 What was the most challenging part of your application, and how did you meet that challenge?
Finding a voice for myself through my writing was the most difficult part. I am not a writer. I completed a college-credit writing course in high school, so as a biology major at Augsburg, I wasn't required to take a single English class. Writing about myself was the most challenging aspect of the applications for grad school and for Fulbright. I spent many hours with Kirsten and Dixie in the URGO office going through my INCREDIBLY rough drafts. All of the URGO staff was encouraging and helpful throughout this stressful process. Their goal is to help you best articulate yourself for the job/school/fellowship you are applying for. I would not have finished my essays on time if I hadn't had their help (and deadlines!).
What does your typical day look like in Sarawak? How does this compare to your typical day in the Marine Biology department at USC?
There is no such thing as a "typical" day in Sarawak, Malaysia! I am currently serving my ETA year in Bintulu, Sarawak, which is an oil and gas town of about 170,000 people. My school, Sekolah Menegah Kebangsaan (SMK) Bintulu, is the largest secondary school in all of Malaysia with a whopping 3,500 students. My day starts at about 6:00 am when I wake up and head to school. Classes begin for the older students at 6:30 a.m. I teach a couple of classes in the morning, help out with field hockey practice, and have lunch in the school canteen when the older students head home at 12:30 pm. Cue the influx of the younger students. I then teach a few classes in the afternoon before track practice. I've loved getting involved with the co-curriculum activities here! I coach track, field hockey, and netball (like basketball with ultimate frisbee rules), along with helping the debate team and the choir. After sweating through my baju kurung (teaching dress), I finally head home around 6:30 pm. My roommate and I drive to get some dinner at a local food stall where we share our crazy stories from the day. I love the constant curve balls thrown at me here in Malaysia!
As a PhD student at USC, my day began with a 6:00 am commute via the train and my bike. I then headed to my TA class lecture before running across campus to my oceanography class. After struggling to understand the content, I went to the lab to teach introductory biology lab. To finish out the day, I ran up three flights of stairs to my advisor's lab to take care of my sea anemones! By then, the sun had set and it is time to hit up one of the three gyms on campus. I would go to water polo practice to de-stress from the day before biking home, stopping at Subway on the way where the sandwich artist knows my order. My brain was constantly exercised here as my classes challenged me each day!
How has your semester at USC informed your Fulbright ETA? How do you think spending a year in Malaysia will influence the rest of your time at grad school, and beyond?
Being a grad student at USC honestly showed me how much a needed a gap year. I put a lot of pressure on myself to go to grad school right away for financial reasons. I do not regret jumping straight into my PhD program, but I am very thankful for this Fulbright year away from 1) school, 2) the states, and 3) a culture focused on individual success. Teaching in Malaysia solidifies my passion for teaching, and I do want to continue my education with the dream of becoming a professor, but I don't know if I will be going back immediately upon return to the states.
In all honesty, I will not be going back to USC. I want to shift my focus within marine biology to a different topic that will be best studied at a different school, which means I will be applying all over again! The culture at USC is also very different than that at Augsburg, and I don't see myself thriving in that setting. Being away from the US has forced me to really assess what I am passionate about and how I want to carry myself in this world. USC taught me a lot about what to expect from a grad program, but it also showed me what I want to avoid when applying for a different grad program.
What advice do you have for current Auggies who are considering Fulbright or graduate school, or who may be split on their plans?
For Fulbright: Do it. Though Fulbright is a big name, apply anyway. They want a diverse group of humans representing the US and serving as global ambassadors. Especially as someone who did not get the chance to study abroad, this program is well run, well known, and I've made amazing friends here from US and from Malaysia. Exploring another culture by working in the community is an excellent way to learn. I cannot express how grateful I am for this program.
For grad school: Do it. Though USC is ultimately not the right fit for me, I now have a better idea of what to expect. If you think you may have even a 1% chance in getting accepted to a program, apply (I got rejected from 3 of my 4)! You may regret not applying, but I've found I don't regret trying!
Final word of advice: It's OK to not know what you want to do or to be unsure if your decision is the correct choice for you. You can ALWAYS change your path.
Interested in applying for graduate school or for a Fulbright grant? Make an appointment in the URGO office today, located in the Hagfors Center, Suite 100. You may also keep up with Rachel's adventures by following her blog, https://shipmetosarawak.wordpress.com.