Junior biology major Holly Kundel '19 is Augsburg's newest Goldwater Scholar. Holly, who is also pursuing minors in environmental studies and mathematics, has been involved with research at Augsburg since the summer after her first year when she worked with Dr. Emily Schilling on a project related to the Canada Darner dragonfly. She is also a member of Tri-Beta, the Augsburg Honors Program, and Campus Ministry.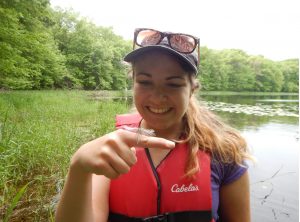 The Goldwater Scholarship a premier award available to students in the country, and will provide tuition assistance for her senior year of undergraduate study and set her apart in her future graduate school applications. She aspires to earn a PhD in environmental biology, focusing specifically on freshwater ecosystems and the impact of climate change on these systems, including pollution prevention and ecosystem restoration.
Holly is the seventh Auggie to earn this prestigious award. Today on the blog, we caught up with her to learn more about how she became interested in her research field, what the process of applying for the Goldwater was like, and where she's going next.
What led you to first apply for research at Augsburg? Did you have experience with research in high school?
I first applied for research when I was a first year because I really liked biology, but I didn't know what I wanted to do with a biology degree. I started asking around for summer work hoping to find something that I enjoyed. Dr. Emily Schilling was one of the professors who taught my AugSem and my second semester of introductory biology, so I approached her to talk about research. She told me that her summer project was dealing with a rare dragonfly species and that we would be doing field work instead of lab work like most URGO students. Even though I didn't know much about insects, the thought of getting to spend my summer outdoors was really nice, so I decided to apply and try something new. I had never done research before, but I thought I would try it out to see if this was maybe my calling.
How have your research experiences changed the way you approach your academic courses?
My research has taught me to pay attention to detail while keeping the big picture in mind. It has also taught me that sometimes even great ideas don't work out, so you just have to keep trying. The lessons that I have learned in research have helped keep me going when classes get tough because I remind myself to keep trying, even if the material is difficult. Research has also taught me that collaborating with other students can be very helpful. The more people you have, the more brain power you have, and it is especially nice to have people to bounce ideas off of. I'm lucky to be able to work with other amazing Auggies in my research, because they have all taught me a lot. This has led me to want to partner with others when working difficult homework assignments. When we work together, we not only get to learn with the people we're working with, we also get to teach them what we know.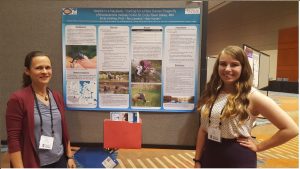 Explain the process of working on your Goldwater application. Were there departments, groups, clubs, or activities at Augsburg that made a difference in your thinking or assisted with your app?
When working on the Goldwater Application, I worked very closely with the URGO office, particularly with Dixie and Kirsten. I would turn in drafts for them to look at and they would either email me feedback or I would meet with them in person. I turned in about 5 or more drafts — I honestly lost count. Dixie and Kirsten read through every one, telling me where I should elaborate, what could be cut out (because every question had a word limit), and what needed to change. With every revision I saw my application get better and better, and they helped me tell my story. I also worked closely with my research mentor, Dr. Emily Schilling. Emily helped me write the required essay. We were limited to three pages, including figures and references, and I had to write about a research proposal or a past project. I chose to write about the research I did during the summer of 2017 where we studied the phenology of the Canada Darner dragonfly. Emily helped me cut the essay down to the appropriate length in a way that all of my thoughts could still be included. I'm very grateful for everyone that gave me feedback so I could improve my application!
What was the most challenging part of your application, and how did you meet that challenge?
The most challenging part of the application for me was explaining my future goals in detail. Although I am very confident that I want to go on to graduate school for freshwater ecology, I'm still trying to figure out where to go and what specific topic I'd like to study. While working on the application, I had to research on the [biology] programs that different schools offered, and I had to try to be more specific with what I would do in graduate school. I was able to overcome this challenge by talking with Dr. Schilling, Dixie, and Kirsten. They were really good at helping me put all of my big broad ideas into specific sentences. I'm someone who likes to hear how things sound out loud, so I was able to answer the questions when describing my goals to these three much more clearly than when I was typing them on my own. I also took honors junior colloquium this year, and for one of our classes, Dixie and Kirsten came along with some Augsburg seniors who had done applications in the past. Hearing the other students speak about their writing process was helpful.
How has your research informed what you want to do post-Augsburg? Did winning the Goldwater affect any of those plans?
Ever since that first summer after my first year, where I did field work with Dr. Schilling, I've been hooked on freshwater ecology. Before I tried research, I thought I might be a pharmacist, but freshwater ecology makes more sense. I love being outdoors! My grandparents have a small cabin that I've been visiting since the day I was born. I really love the Midwest, and Minnesota in particular. We are so lucky to have so many beautiful lakes and rivers to visit. When I learned that I can do research and apply my biology knowledge to learning more about freshwater ecosystems and how to protect them, I knew it was my vocation. My research has shown me what I want to study in graduate school. I previously thought that I would go on to get my masters, but after going through the whole application process and winning the award, I believe that I want to get my PhD. I love research and couldn't think of a better job for myself. It can be discouraging to be told that I should be pursuing a career in the medical sciences instead of working on protecting the environment. However, I know how important it is to study freshwater, especially in Minnesota. We rely on freshwater for drinking water, recreation, transportation, agriculture and so much more. We need people to study freshwater ecosystems because these ecosystems are precious, fragile and in need of protection, and that's exactly what I want to do.
What advice do you have for current Auggies who are considering summer research or graduate school?
I'd advise them to go for it! Don't let your fear of rejection stop you from trying. If your application isn't picked for something one year, don't be afraid to apply next year! We are blessed with such kind and knowledgeable faculty, so get to know them. Ask them what they study and what sorts of projects they have available to work on. Ask them about their experience with graduate school and for tips on how to apply. Our faculty are so great, but they can't help you if they don't know you and if you don't ever meet with them. Even if you have no idea what you want to do with your degree, they can help point you in the right direction. Also, don't be afraid to try something new, you may absolutely love it! Before I started research I didn't know anything about dragonflies, and now I consider them to be my favorite animal. I even spent my last Saturday at a dragonfly ID workshop for fun because I find them to be so interesting! But I wouldn't have ever known if I never tried. I'd also recommend using the great resources on campus such as the URGO Office and the Strommen Center to learn about research opportunities on and off campus and other jobs and internships, too.