Chemistry major Mike Alves '17 had a unique introduction to Augsburg University. After completing his associates degree at Minneapolis Community and Technical College, he applied and was accepted to pursue his Bachelor's at Augsburg, but instead of starting classes in the fall with other transfers and first years, he began his time on campus in the summer of 2015 as an AugSTEM researcher. You can read more about his experience in a 2015 profile here!
Even then, he knew he wanted to pursue a PhD in chemistry, and now he is fulfilling that dream. "I'm currently in La Jolla, California, enrolled in a PhD program (Analytical and Atmospheric Chemistry) in the Chemistry and Biochemistry division at UC San Diego," Mike shared.
This week on the blog, we caught up with the past ACS Club president, McNair scholar, and AugSTEM and NorthstarSTEM scholar to learn more about his path toward his professional and academic goals.
What led you to first get involved with research? How have your research projects changed or built upon each other?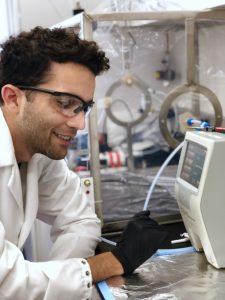 What led me to first get involved with research was none other than Augsburg's own Dr. Dave Hanson. With a paid summer research project after graduating community college, and a subsequent hiring for paid research during the school year, I was able to quit my full time job as a waiter, and, for the first time, focus on my path as a chemist. My first project was characterizing human breath using a specialized mass spectrometric technique. I was able to successfully identify major breath compounds that had the potential to be biomarkers – molecules in our body that are indicative of specific bodily processes such as metabolism or immune responses. I now work on climate related studies, as well as indoor air chemistry – very similar to my first project – where I look at our impact on the surfaces and breathable air around us, and possibly how it might affect us in turn.
How have your research experiences changed the way you approach your academic courses?
Since my research at Augsburg, I look at academic courses through the lens of my current projects. I enjoy taking classes that could possibly help my research both currently and in the future, including: communication, coding, instrumental courses, etc. Therefore, I now tend to forgo the longer classes for shorter and more intense 1-4 week workshops. This way I know exactly what I'll be learning and there's no lag time between material that might not necessarily apply to my interests.
Explain the process of working on your graduate school applications. Were there departments, groups, clubs, or activities at Augsburg that made a difference in your thinking or assisted with your app?
Working on graduate school applications is difficult, but not impossible. I started early because I was exposed to quite a few writing workshops, courtesy of McNair and my summer Research Experience for Undergraduates (REU) program in San Diego. I received a lot of different advice on how to approach a grad application, and I ended up with my own style – something I knew that fit my story the best. Beginning with a standard online outline of a graduate application was nice, but it led to something that was very clunky and not story-like at all. Having resources like McNair or CAICE definitely helped me write a great graduate school application.
What was the most challenging part of your application, and how did you meet that challenge?
The most challenging part of writing an application is walking between the fine line of bragging about yourself and being too modest about your achievements. I think a lot of people tend to undersell themselves in their applications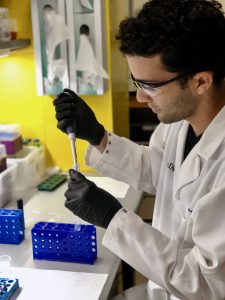 to the point of even omitting amazing details. I realized where this line was when I started getting feedback from multiple people about my applications. The best interaction was with Dr. B from the Biology department. Instead of speaking about my application specifically, I just told her my story – of how I got to Augsburg and what I did there. Her reactions to specific parts of my story gave me the realization that there were key details of my life that seemed unimportant to me but were very interesting to other people. The result was an application that told a story of not just my achievements, but how those experiences led me to become an applicant who was wholly prepared for graduate school.
How has research and winning the Minnesota Space Grant changed your course post-Augsburg?
Having a paid research position during the school year, as well as receiving grants and scholarships like the Minnesota Space Grant, were integral to my path in chemistry. As someone from a low-income family, my financial status has always been something I was unsure about. The support that I received allowed me to focus on chemistry instead. This is important because it was a time where I was genuinely interested in STEM, and as a result, I have carried that interest with me in my graduate studies.
What advice do you have for current Auggies who are considering research or applying for prestigious grants and awards?
For current students considering research, I would say – try it. There are dozens of REUs and similar programs across the nation that will specifically accept inexperienced applicants. Thankfully at Augsburg, the URGO program exists and can provide you with not just the experience, but also the capability to apply to other summer internships/research positions at high caliber institutions later on.
For students considering applying for prestigious grants and awards – if you're eligible, absolutely apply. I think the common saying "You gotta be in it to win it" applies well here. It only takes a couple decisions from a few random people in the application process to lead to something that could drastically change your life. I would recommend spending a good couple of weeks generating a solid personal statement draft with multiple reviewers, and then going to Hard Times (the 24/7 café down the road) to crank out the applications one by one. Email professors for recommendations on multiple grants and such. It takes time, but trust me – it's worth it.