The URGO office received the following letter from Anna Renner, a graduate of 2017, who now attends Clarkson University. She had a few retrospective thoughts to share about the application process, how she's doing in her PA program, and what her future looks like:
Dear Auggies,
Just a year ago, I was sitting in the computer lab with a bunch of other students hopeful about getting into grad school, agonizing over our personal statements. Trust me when I tell you this: have MANY people edit and read your statement. I can't tell you how many times I utilized Catherina in addition to friends and family who were "well-versed." I am finishing up my second semester as PA student in my didactic year at Clarkson University in Northern New York. It's hard to believe so much has happened since my time at Augsburg, between getting accepted into two PA programs, getting to pick my number one school, graduating, quitting my full-time job, and packing my entire life in my car and driving through a blizzard to Upstate NY.
We have twelve months of didactic trainin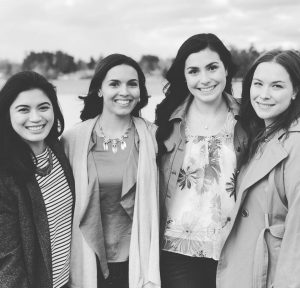 g in our program; during these months we take courses in clinical medicine, basic sciences, ethical and legal issues in the PA profession, patient assessment, among others. We also utilize a "problem-based learning" approach, or what we call "PBL."  We do small-group sessions each week during all three semesters of didactic training where we are given a chief-complaint and together we have to come up with a working diagnosis, a plan for assessing, and a treatment plan with very little instruction from our professors. PBL and our simulation labs are where we are able to bring what we learn from the classroom into a more practical, clinical approach. During our first semester, we covered the bulk of what is covered on our medical board's licensure exam, which included pulmonology, cardiology, GI, and dermatology. Each exam we have taken builds off previous material, which I think is great because we are constantly reviewing what we have already learned. We then have 14 months of clinical education, where we do our rotations, have a class in special procedures, and also have a month set aside for doing our master thesis project, which we actually start this upcoming summer. Now, as much as I study (which is almost every second of every day) we do have fun while in PA school.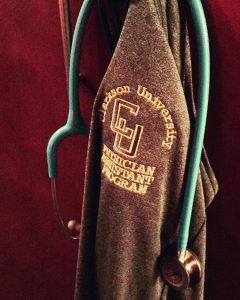 Clarkson is devoted to helping not only our community, but also helping others nationally and internationally. We frequently host events for the entire community to attend. For example, we held the Teddy Bear toss, where all the teddy bears donated during one of the hockey games (Go Golden Knights!) were then given to the children on the pediatric floors at all the surrounding hospitals. We also put together the breast cancer walk coming up in May. Taking things out of the USA, Clarkson has an annual mission trip where we go to either the Dominican Republic or Nicaragua and spend our spring break seeing members of a community, offering medical care free of cost. We get donations from the local hospitals and sponsors.
One of the best things about Clarkson is how close we all are as a program. The third years interact with us first years, and we all go on outings together and truly try to help each other. It feels like family here, sometimes a little dysfunctional, but that's just because we are all under quite a bit of stress at times. I was a little hesitant moving to a rural area just because I grew up in St. Paul, MN. It was a definite culture shock, however, I am learning not only what is necessary for being a quality PA no matter where I go, but I am also learning tricks and tips of the trade that someone may not get in the city–for instance, how to manage and stabilize a patient where you are the only PA working in the emergency room with no M.D. on site.  Which, shockingly, there is a difference in how you manage a patient in a rural setting versus at a level 1 trauma center. We have many opportunities being here at Clarkson, as they have clinical rotation sites set up all over Northern NY, in NYC, and all over the US. Even Alaska!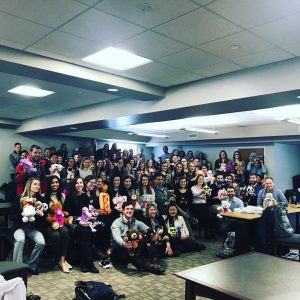 Coming up in June, we have our White Coat Ceremony, which we are all looking forward to, as it will represent a milestone for us that we have made it past our first semester and will jump into the trenches of second semester, and it is to represent the transition of where we will start seeing patients in the hospital to practice taking history and physicals.
If you are unsure if a rural health program is right for you and want to know more, or have any questions in general about PA school, please feel free to e-mail me: rennerak@clarkson.edu
Don't give up! I promise what you are going through is worth it!
Sincerely,
Anna Renner, PA-S1
NYSSPA Student Ambassador
Augsburg Alumni 17'