Since moving to Minnesota and starting school at Augsburg in the Spring of 2017, space physics and mathematics major Lidiya Ahmed '20 has been awarded both the Phillips Scholarship for her leadership in community service and the Rossing Scholarship for her outstanding work in the physics field. Lidiya, who grew up in Ethiopia, is also a LEAD fellow who has worked at many different community-based programs, such as Campus Ministry's Urban Plunge program, Soup for You, and the Campus Kitchens program. She is currently a STEM peer mentor and has worked as a teaching assistant and 3D printing coordinator for the math department. After graduating from Augsburg, she plans to pursue a PhD in space physics.
This week on the URGO blog, we caught up with Lidiya to learn how she decided to apply for the scholarships that have empowered her to pursue her two loves—physics and serving her community.
Briefly define the Rossing and Phillips Scholarships. What led you to first apply for them?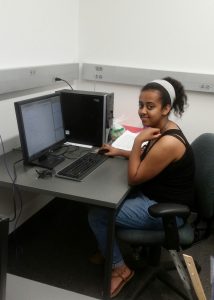 I am actively involved in my community, and I love giving back to my community. I found out about the Phillips Scholars Program—which supports potential leaders with outstanding academic credentials who intend to dedicate a portion of their lives to community service and supports the development and implementation of self-designed service projects to address unmet needs in Minnesota communities—while I was at a LEAD fellows retreat, and I thought it would be a great opportunity for me to work on my own project which is focused on empowering women and minorities in STEM.
The Rossing Physics Scholarship is for physics majors with great academic achievement, and I wanted to get a support system since I face many challenges as a woman majoring in physics. I knew of the connection that you get in the physics field through this scholarship and I wanted to be part of it as I plan to pursue my PhD.
How have your research experiences changed the way you approach your academic courses?
Last summer's biophysics research with Dr. Ben Stottrup was a great experience since I gained skills like programming using high level languages. With five other lab mates, I learned that I liked to work in a team and to solve problems. During our weekly lab presentations, I improved my presentation skills and learned additional physics concepts by reading and presenting articles related to our research. I'm currently working in Dr. Mark Engebretson's space physics lab studying phenomena that occur at the edges of space–in Earth's space environment. I have learned through research how to solve problems on my own and how to cooperate with others.
Explain the process of working on the Rossing and Phillips applications. Were there departments, groups, clubs, or activities at Augsburg that made a difference in your thinking or assisted with your app?
I worked with Dixie and Kirsten from URGO office regarding the Rossing scholarship, and they helped me a lot with my application. They spent hours and hours shaping my story and even correcting my grammatical errors. They were really committed and did a great job in putting together all the application materials. All my professors who took their time to write a letter of recommendation for me (both the math and physics departments), the programs that I am part of as a community leader, and the people at the departments that I am involved with played a great role in my applications. I wouldn't even be able to think about my Phillips project if I weren't exposed to the problems in the community as I work under the LEAD fellows program and STEM peer mentor program.
What was the most challenging part of your application, and how did you meet that challenge?
I had to write a seven page proposal for the Phillips Scholars Program and a three page essay for the Rossing Physics Scholarship, which was the most challenging part of my applications because I didn't have this kind of experience before. I reached out to many people from different offices to get help with this, including the URGO office, STEM office, physics and math departments, International Students office, Sabo center, and the Pan-Afrikan students office. Everyone that I contacted was willing to help me out with both the supporting materials and the personal statement as well as the proposal. The URGO office also assisted with the Rossing physics scholarship by helping me get my transcript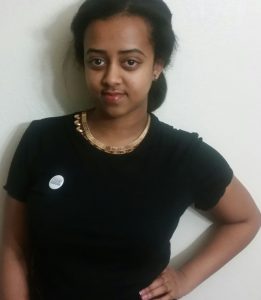 , letters of recommendation, and essay on time.
How has winning the Rossing and Phillips awards informed what you want to do post-Augsburg? Has your research affected any of those plans?
I wasn't sure about what I would do post-Augsburg until I did a summer research and realized that doing research is what I really enjoy. It convinced me to become a research scientist in the future. It was motivating to win the Rossing Physics Scholarship as a physics major, and it encouraged me to keep moving forward to achieve my dreams. I also learned that I should use my knowledge and skills to empower others who haven't had the opportunity to be in the STEM field like I did. After I became a Phillips Scholar, I met many young people working to meet the needs of their communities  and to bridge the achievement gap.
What advice do you have for current Auggies who are considering research or applying for prestigious grants and awards?
The first thing that I suggest is being active in the campus community and working with the departments in your area of interest. Doing research helps to develop many skills that you don't learn from your classes, but that will help a lot with your academic courses. It gives you a better understanding of the career path that you want to follow and helps you make connections. Scholarships, awards, and grants give you the relief of not having to worry about paying for your tuition and help you focus on your education even if you don't get a lot of financial help from your family and school. Reach out to people in your departments and other offices like STEM and URGO office to see if you are eligible for any scholarships. Then, work with them on your application to be present the best story about yourself!