Augsburg URGO students often leave our campus with large dreams of affecting change in the world around them. Two such students are Will Matchett PhD '13 and Brittany Kimball MD '13. These alumni pursued different career paths in STEM that are directly shaping healthcare in our current COVID world.
Will Matchett, PhD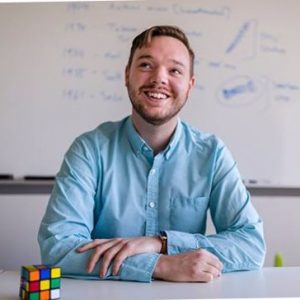 Matchett, who graduated from Augsburg with a B.S. in Biology and a B.A. in Chemistry, took a gap year in 2013 before pursuing a Ph.D. in Virology and Gene Therapy from the Mayo Graduate School of Biomedical Sciences. He now works as a postdoctoral researcher at the University of Minnesota, where he will spend 3-5 years acquiring training that will allow him to run his own lab someday. His current research revolves around COVID, infecting cells from the bronchial tube with the virus that causes COVID to understand what types of cells are being infected and what happens to them at a molecular level. This line of work directly affects the creation of new therapies for COVID, which in turn makes Matchett's work at the lab relevant to all our lives.
Matchett was undecided about his major when he came to Augsburg, but upon taking an entry-level science course, he realized the subject was a passion that could lead to a future career. He found a home in the biology department and utilized multiple campus resources to affirm this science career path. The Strommen Center provided career exams that gave insight into what job sectors fit Matchett best, while his research experiences with URGO and the Mayo Clinic confirmed his skill and desire to be a scientist. One gap year and Ph.D. later, Matchett is working to be a leader in science, hoping to one day teach at a small university like Augsburg. His best pieces of advice to undergraduates? Get involved with research outside the classroom to know whether a science career fits you, and most importantly, listen to URGO and the other resources available to you on campus.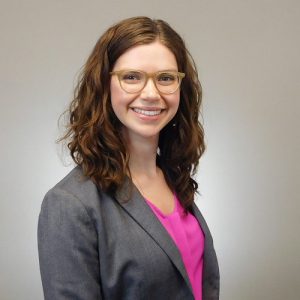 Brittany Kimball, MD
While Matchett studied biology at Augsburg, Kimball studied alongside him with a different career path in mind. Her dream since 17 years old was to be a doctor, inspired by her mother's work as a nurse. Her time at Augsburg was shaped by volunteering opportunities with the Campus Kitchen and Health Commons, as well as a research opportunity in bioethics at Mayo Clinic. After graduating with a B.S. in Biology from Augsburg, Kimball attended medical school at the Mayo Clinic School of Medicine and is currently in her third year of residency at the University of Minnesota in Internal Medicine and Pediatrics. After residency, she'd like to pursue a fellowship in hematology/oncology, but her current work is being colored by the world's COVID environment.
The methods and practices of her residency look much different during a global pandemic. Kimball is on a constant learning curve, reading ever-changing literature about COVID and finding new ways to support patients in an environment where most human connection has had to be removed from the job. Virtual visits with outpatients have become a key part of her work, while also continuing to care for those in the hospital in the safest ways possible. To keep her resiliency in that environment, Kimball leans on her support system at home and diverts energy into finding new resources and ways to support her patients, aiming to give the highest standard of personable medical care during this difficult time. Her advice to students considering med school is to garner as many varied experiences as possible. "There are many parts that make up medicine," reflects Kimball. "Make sure you explore all the parts." Prospective med students should spend time around both research and community health.
Advice for Undergraduates
Both Matchett and Kimball recognize their undergraduate experiences are different than those available to current Auggies during a pandemic. However, they offer some suggestions for gaining important experience in this new, largely virtual environment.
For pre-med students, medicine is about connectedness and caring for the community.
During COVID, be politically active (writing letters and researching issues).
Do volunteer work for local community organizations.
Get involved with Augsburg campus initiatives like Campus Kitchen or the Health Commons.
Consider working as a contact tracer.
For researchers, continuing to gain perspective on research as a career is imperative.
Reach out to scientists for informational interviews to learn about their experiences and gain insight on what their job is like.
Seek out research opportunities such as academic year and summer research through URGO.
If you are a student interested in speaking with either Kimball or Matchett about their experiences, reach out to urgo@augsburg.edu to get connected.