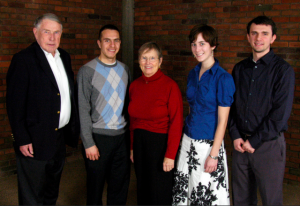 With great sadness, Augsburg College announced the loss of U.S. Representative Martin Sabo on March 14, 2016. Sabo, a 1959 alumnus of Augsburg College, was a national leader and public servant, and an inspirational legend dedicated to revitalizing the role of higher education in equipping students for active engagement in citizenship and democracy.
Sabo led a full and accomplished life, and the many heartfelt remembrances that have been shared since his passing are a testament to the impact he made in our community and nation as a member of the Minnesota House of Representatives and the College's Board of Regents. On the College's website, you'll find a tribute to the remarkable work and contributions that Martin and his wife, Sylvia, have made to Augsburg.
Augsburg has been blessed by the life and work of Martin Sabo. He will be greatly missed and long remembered. Our thoughts are with his family, including Martin and Sylvia's daughters, Karin (Sabo) Mantor '86 and Julie Sabo '90, and their families.
President Paul Pribbenow spoke about the enormous impact of Martin Sabo with WCCO, and the state, and local and national media covered Sabo's passing extensively.
Augsburg is deeply honored to be able to carry on Sabo's legacy with the important work of the Martin Olav Sabo Center for Democracy and Citizenship, where he remained active. Since 1995, 96 Auggies have had the distinction of being Sabo Scholars, awarded to juniors and seniors who have interest in and a commitment to engagement in the political process, public policy, and/or careers in public service.
Professor Phil Adamo learned about Martin Sabo's passing while he was in the midst of writing a piece about Sabo that describes Sabo's history, time at Augsburg, and run "For members of the College community," Adamo writes, "Representative Sabo will always be a part of Augsburg. We knew him when." Please enjoy this excerpt from professor Phil Adamo's sesquicentennial history of Augsburg College. Harry Boyte, senior scholar in public work philosophy for the Sabo Center for Democracy and Citizenship, shared in a recent Huffington Post article his experiences working with the late Martin Olav Sabo '59.
Alumni wrote the Alumni Association with remembrances, and shared memorials gifts to the Sabo Endowment Fund at Augsburg College in his honor.
I learned from my college classmate Martin Sabo the potential of persons of humble origin when I happened to pass through his home town of Alkabo, North Dakota, in the summer of 1959.  I was on tour with the Augsburg Male Quartet, and was amazed to see that Alkabo had a population of a grand total of 50. This experience remains an inspiration to me in my present work with scholarships for forgotten mountain youth here in Mexico.  But my favorite memory of Martin is from only six years ago at our 50th class reunion.  We were having morning coffee together with Paul Almquist and another classmate. The subject of Hans Nielsen Hauge came up, and Paul suggested that we go around and define the lasting importance of this itinerant Norwegian religious/economic reformer of 200 years ago. Martin's enthusiastic participation in the discussion, linking Hauge's followers in America with the origins of the Democratic Farm-Labor Party in Minnesota, and the Progressive movement in Wisconsin, revealed for me the religious bedrock of Martin's convictions about good government.
—Ren Svanoe '59
He seemed to be at Augsburg often—bless him!
—Inez Bergquist '77
Martin Sabo and I met in 1955 at Augsburg as freshman. He was a young man from a NW North Dakota farm  and I the same from a farm in SW Minnesota.  Our first real meeting was on the "wrestling mat" in our freshman phy. ed. class. Both of us were strong but neither of had ever wrestled so there was a "Draw" probably the closest he ever was to losing, ha!! That was the only class we were in together but we remained friends throughout his college and political career. I was Honored to be a Distinguished Alumni and am proud to claim his 60+ years of friendship. My wife JoAn being from North Dakota was always proud of his accomplishment and quick to point out his native State.  We will miss his presence on our Campus visits.  He was always a fan for the Basketball teams I was fortunate to play on. May God Bless his memories and his family.
—Dr. Merton '59 and JoAn '58 Johnson
Sad to hear of the death of Congressman Sabo. It was an honor getting various opportunities to get to know him during my year at Augsburg and after. He's life impacted many and he definitely has left a mark in my life because of his active citizenship & letting us young people be around and learn from him.
We lost a great man today. My thoughts are with his wife Sylvia and family.
— Juventino Meza '11, one of three Sabo Scholars pictured above
I was lucky to know Martin and Sylvia as a student at Augsburg. Martin pushed me to think in new ways to impact public policy and ways of thinking about everyday solutions. I am grateful for what Martin provided to my education and how he shaped me a person. We lost great leader and a proud Auggie but glad to see his legacy at work through the Sabo Scholars and the Sabo Center for Democracy and Citizenship at Augsburg College.
— Ben Krouse-Gagne '11, former Sabo Scholar also pictured above