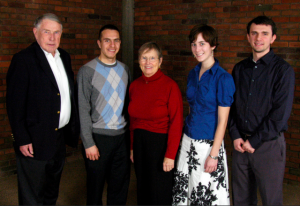 With great sadness, Augsburg College announced the loss of U.S. Representative Martin Sabo on March 14, 2016. Sabo, a 1959 alumnus of Augsburg College, was a national leader and public servant, and an inspirational legend dedicated to revitalizing the role of higher education in equipping students for active engagement in citizenship and democracy.
Sabo led a full and accomplished life, and the many heartfelt remembrances that have been shared since his passing are a testament to the impact he made in our community and nation as a member of the Minnesota House of Representatives and the College's Board of Regents. On the College's website, you'll find a tribute to the remarkable work and contributions that Martin and his wife, Sylvia, have made to Augsburg.
Augsburg has been blessed by the life and work of Martin Sabo. He will be greatly missed and long remembered. Our thoughts are with his family, including Martin and Sylvia's daughters, Karin (Sabo) Mantor '86 and Julie Sabo '90, and their families.
President Paul Pribbenow spoke about the enormous impact of Martin Sabo with WCCO, and the state, and local and national media covered Sabo's passing extensively.
Augsburg is deeply honored to be able to carry on Sabo's legacy with the important work of the Martin Olav Sabo Center for Democracy and Citizenship, where he remained active. Since 1995, 96 Auggies have had the distinction of being Sabo Scholars, awarded to juniors and seniors who have interest in and a commitment to engagement in the political process, public policy, and/or careers in public service.
Professor Phil Adamo learned about Martin Sabo's passing while he was in the midst of writing a piece about Sabo that describes Sabo's history, time at Augsburg, and run "For members of the College community," Adamo writes, "Representative Sabo will always be a part of Augsburg. We knew him when." Please enjoy this excerpt from professor Phil Adamo's sesquicentennial history of Augsburg College. Harry Boyte, senior scholar in public work philosophy for the Sabo Center for Democracy and Citizenship, shared in a recent Huffington Post article his experiences working with the late Martin Olav Sabo '59. Continue reading "Remembering Martin Sabo" →