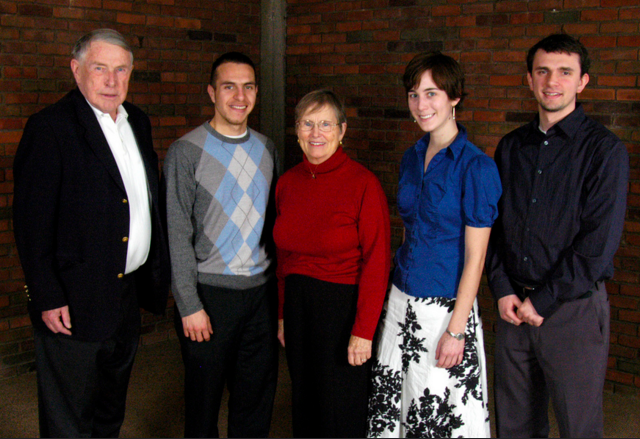 (MINNEAPOLIS) — U.S. Representative Martin Olav Sabo '59, who passed away at age 78 on March 13, 2016, was a lifelong public servant who exemplified the progressive approach and personal integrity that were modeled in his Lutheran upbringing and education.
His commitment to public service will leave a lasting legacy at Augsburg College through his work to create and guide the Martin Olav Sabo Center for Democracy and Citizenship, the Sabo Scholars program, and the annual Sabo Symposium. 
One year after graduating cum laude from Augsburg College, at age 22, Sabo was elected to serve in the Minnesota House of Representatives. During Sabo's tenure in the Minnesota Legislature, he became the first member of the Democrat-Farmer-Labor party to serve as Speaker of the House, a post he held from 1973-78. He went on to serve for 28 years as a member of the U.S. House of Representatives, retiring in 2007.
At the same time that Sabo served in Congress, he volunteered 12 years to Augsburg College as a member of the Board of Regents. He was named an Augsburg Distinguished Alumnus and received the first honorary degree ever conferred by the College.
Sabo and his wife, Sylvia, guided Augsburg in the creation of the Martin Olav Sabo Center for Democracy and Citizenship. The goals of the Center are to create opportunities for civic experiences and skill-building—inside and outside the classroom—for students, faculty, staff, alumni, and community members—and to carry forward the Sabos' and the College's important commitment to public service.
"The creation of the Sabo Center for Democracy and Citizenship gives Augsburg the ongoing opportunity to celebrate the life and work of our dear friend and distinguished alumnus," said President Paul C. Pribbenow.
"Congressman Sabo's life-long commitment to public service is an inspiration to all of us. As we live out our mission and vision here at Augsburg, we, of course, are deeply engaged in helping our students to understand the electoral political process, which Congressman Sabo so ably served."
Congressman Sabo and Sylvia Sabo are parents of Auggies Karin Mantor '86 and Julie Sabo '90. 
Sabo was distinguished in all he undertook, and in 2006 was appointed Commander of the Royal Norwegian Order of Merit for outstanding work and dedication to Norwegian-American relations.
Learn about the Sabo Center for Democracy and Citizenship at augsburg.edu/sabo.