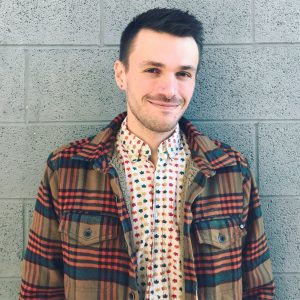 Chris Stedman '08 is a humanist community organizer, interfaith activist, and writer living in Minneapolis, Minnesota. He is the founding executive director of the Humanist Center of Minnesota, a project seeking to explore the viability of a center for humanist life in Minneapolis, through which he and a group of researchers are currently studying the beliefs, practices, and community involvement of the religiously unaffiliated.
One of his nominators, Dr. Lori Brandt Hale, associate professor of religion at Augsburg, says this about Chris, "As a long-standing member of this community, I think we must count ourselves lucky to call Chris one of ours, and even luckier that he has come back to Minnesota, and Augsburg University, to carry on his important work in collaboration with all of us."
Formerly the founding executive director of the Yale Humanist Community and a fellow at Yale University, Chris also worked as a humanist chaplain at Harvard University, a content developer and trainer for the Interfaith Youth Core, and as the founding managing director of State of Formation at the Journal of Inter-Religious Dialogue. He currently serves as a fellow at the Christensen Center for Vocation at Augsburg University, and previously served as a fellow at Augsburg's Sabo Center for Democracy and Citizenship.
Chris is the author of "Faitheist: How an Atheist Found Common Ground with the Religious" (Beacon Press, 2012), "an intimate and deeply affecting portrait… [that] proves [he is] an activist in the truest sense and one to watch" (Booklist, Starred Review). The book received widespread acclaim from publications like the Minneapolis Star Tribune, which called it an "enlightening and engaging memoir calling for civil discourse between atheists and the religious [that] couldn't come at a better time," and the Houston Chronicle, which named Faitheist one of the best religion books of the year and called it "an exciting and boundary defying introduction to a new world [and] an amazing book that could potentially change the game."
Chris received a master of arts in religion from Meadville Lombard Theological School at the University of Chicago, for which he was awarded the Billings Prize for Most Outstanding Scholastic Achievement. A 2008 graduate of Augsburg University with a summa cum laude bachelor of arts in religion (with English and social welfare minors), he is currently writing a book exploring what it means to be "real" in the digital age and writing a monthly column on the same topic for INTO.
He has appeared on CNN, MSNBC, PBS, and Fox News, has spoken at hundreds of conferences and universities, and has written for publications including The Guardian, The Atlantic, Pitchfork, BuzzFeed, VICE, The Los Angeles Review of Books, CNN, MSNBC, USA Today, Salon, The Washington Post, and others. Details magazine named Chris one of "five next-gen gurus who are disrupting religion's status quo" and Mic called him "the millennial who's busting every stereotype about atheists."
The irony has been noted that Augsburg's most well known religion graduate is known for the fact that he is an atheist, and it is through this robust civic and ideological engagement that Chris practices the mission and vision of Augsburg.