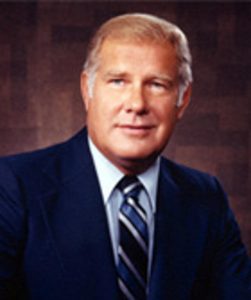 Growing up, Chuck Bard was an all-around sports enthusiast. He played football, basketball, baseball, and even won a few championship titles in beanbag toss and horseshoes. At Augsburg, Chuck was a letterman in football and baseball and received an athletic sweater with recommendations from the athletic director and football coach in 1948. He played second base on Augsburg's 1947 and 1948 MIAC Conference Baseball Championship teams. However, the sport that Chuck loved most – and the sport that gained him the most notoriety – was a sport he never played: hockey.
Hockey was a relatively new sport when Chuck was in school. By the time he started college, Augsburg had a hockey team, however Chuck was already playing football and baseball and student-athletes were allowed to only join two sports at the time. This did not hinder his love of hockey, though. Chuck attended as many Auggie hockey games as he could and enjoyed watching the players out on the ice.
Chuck had a successful athletic college career in football and baseball at Augsburg, as well as a successful academic career. After graduating in 1950 with a degree in Physical Education and a minor in Journalism, Chuck went into banking.
"I was active at the YMCA, where I met two bankers one day. They were asking for army guys such as myself to come in for training. I figured as long as I'm here, I might as well interview. I interviewed and that evening I got a call from Northwestern Bank offering me a job. I took it! I was a banker for twenty years," says Chuck.
Chuck continued his passion for sports by co-founding the Decathlon Athletic Club in the late 60's. Located in Bloomington, Minnesota, it was the first private athletic club in Minnesota outside of downtown Minneapolis or St. Paul.
"We had the former executive of the St. Paul Hotel with us for six months to help with strategy, but he said the club would never run in the suburbs because all the clubs were downtown."
Chuck made sure the athletic club opened and he spent the next twenty years turning it into a success.
In 1978, Chuck was the CEO of the Decathlon Athletic Club. He was still an avid hockey fan and a proud owner of Minnesota North Stars hockey season tickets. But he noticed hockey didn't have a collegiate award to honor the best collegiate hockey players in the nation like other sports.
"Football had the Heisman Award. Basketball had the Wooden Award. What about hockey?"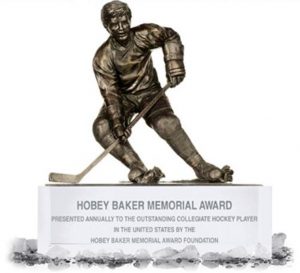 Chuck decided his athletic club would start a nationally recognized hockey award. After consulting with the Los Angeles athletic club that started the Wooden Award, Chuck established the Hobey Baker Award, named after hockey legend Hobey Baker. Chuck was captivated with Baker's athleticism. Baker was an All-American football and hockey player, and was the first American hockey player to be enshrined in the Canadian Hockey Hall of Fame.
In 1981, the first Hobey Baker Award was given to Neil Broten. Broten played Center for the University of Minnesota and the "Miracle on Ice" U.S. Olympic hockey team, which took gold at Lake Placid in 1980.
Since that first award, The Hobey has been awarded to 40 hockey players from around the country. The award is given to a player who best demonstrates "teamwork, dedication, integrity, exceptional play, humility, and above all, character."
In 2007, Chuck returned to his alma mater to honor Augsburg men's hockey coach, Ed Saugestad, as a Hobey Baker Legends of Hockey honoree.
In the early 2000's, Chuck took a deep look into his program to evaluate how things were going. One step he took to ensure the award's longevity was to hire a new marketing and public relationship programmer, Wally Shaver. Wally was no stranger to hockey and was an ideal candidate according to Chuck. Wally has been the voice of the University of Minnesota's Gopher hockey for years, following in the footsteps of his father, Al Shaver, who was an announcer for the Minnesota North Stars.
"I got a phone call from my friend, Herb Brooks, who was a member of the Decathlon Club. The Hobey Baker people wanted a change with their marketing. It was all in-house with Chuck in the beginning," says Wally. "Herby gave me a call and said I should talk to them. I said, 'Geez I'd love to help any way I can!'"
Incidentally, Wally also had a connection to Augsburg. His son, Jason Shaver, was a hockey goaltender for Augsburg in the early 90's.
"The Hobey Baker Award is a fun project to work on. It's unique. What the Heisman is to football, the Hobey is to hockey," says Wally. "It's a prestigious award and everyone loves it. Especially the kids, they appreciate recognition for all their hard work during the season."
While the award remains true to its original vision – to recognize the top NCAA men's ice hockey player in the nation – it has evolved over the years. What started as one trophy for college hockey's most outstanding player has grown into a first place winner, three Hobey Baker Hat Trick finalists, The Hobey Baker High School Character Award, Legends of College Hockey, and a TV show that airs on the NHL network the Friday before the Frozen Four begins.
Even in retirement, Chuck is still a major supporter of the Hobey Baker Award. And he continues to watch as much hockey as he can.