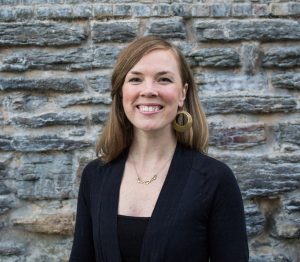 On Sept. 29, 2018, the Young Alumni Council will host Yoga on the Lawn of the beautiful new Hagfors Center for Science, Business & Religion from 9 a.m. to 10:30 a.m. The Council is excited to bring alumna, and renowned yoga instructor Halen Bower back to campus to instruct a stimulating hour!
Bower graduated from Augsburg in 2008 with a BA studying international relations, and got a taste for travel when she studied abroad her junior year. As an athlete most of her life, (she played volleyball for Augsburg from 2004-2007) Halen initially came to yoga as a gentler way to stay in shape. In 2010, she was able to combine both her love for travel and her love of yoga when she completed her 200 hour training in Guatemala. She has been traveling with yoga ever since. Halen has taught yoga in Switzerland, Alaska, California, Minnesota, and Vermont. She is trained in Adapting Yoga for Disability, in Yin Yoga, and in Restorative Yoga. Bower has been a certified Children's Yoga teacher since 2011, and is now in the process of completing her 95 hour certification with Radiant Child Yoga.
Bower epitomizes true kindness and a heart-centered zest for life. Her presence and classes will leave you both energized and relaxed. Her hope is to teach yoga in a playful, and approachable way to help promote healing, connection, and openness in mind, body, and spirit. She looks forward to bringing what she has learned over the years back to Augsburg to connect with her Augsburg community. Bring your mat and join her on Saturday, Sept. 29 from 9 a.m. to 10:30 a.m.
Please register for this event. Limited to 30 participants.