Join us in chapel for our series on Wild and Precious Hope.
Monday, January 8 at 10:40 am: Mindful Monday with Jermaine Nelson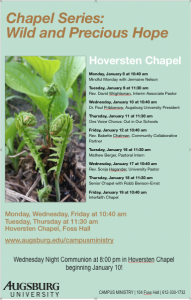 Tuesday, January 9 at 11:30: Rev. David Wrightsman, Interim Associate University Pastor, preaching.
Wednesday, January 10 at 10:40am: President Paul Pribbenow preaching.
Thursday, January 11 at 11:30 am: One Voice Choir: Out in Our Schools. Minnesota's only (and one of the nation's largest) LGBTA chorus. Before chapel at 9:45am, 60 middle school students will join with the chorus in an "Out in Our Schools Concert."
Friday, January 12 at 10:40am:  Pastor Babette Chatman, Community Collaborative Partner, Redeemer Center for Life and Redeemer Lutheran Church, preaching.
Tuesday, January 16 at 11:30 am: Mathew Berger, Pastoral Intern
Wednesday, January 17 at 10:40 am: Rev. Sonja Hagander, University Pastor and Director of Campus Ministries