Augsburg Faculty and Staff, the Division of Mission invites you to attend the spring vocation lunch:
called to be a post-modern missionary

with Paul C. Pribbenow, Augsburg University President
Tuesday, April 7
12:15 p.m, – 1:25 p.m.
East Commons, Christensen Center
NOTE: This event has been postponed until Fall 2020.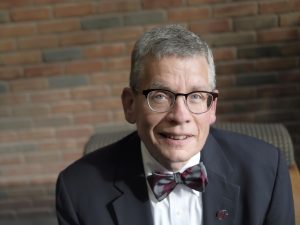 Paul Pribbenow, the 10th president of Augsburg University. Since joining Augsburg in 2006, Pribbenow has enhanced the university's role as an active community partner in its urban setting. By identifying and embracing initiatives that mutually benefit Augsburg and its neighbors, the university has achieved national recognition for its excellence in service learning and experiential education. President Pribbenow also has become a leader among the 26 colleges and universities of the ELCA, helping to articulate the gifts shaping and supporting Lutheran higher education in the 21st century.
Under his leadership, Augsburg has changed its name from Augsburg College to Augsburg University, recognizing its expansive academic mission serving undergraduate and graduate students on campus and at locations around the world. Augsburg's Board of Regents was awarded the 2017 John W. Nason Award for Board Leadership for efforts including initiating an inclusive, five-year strategic planning effort and leading the institution's largest-ever capital campaign. President Pribbenow played a key role in Augsburg's most successful capital campaign, which raised more than $55 million to construct the Norman and Evangeline Hagfors Center for Science, Business, and Religion, which opened January 2018. To read more, please visit  https://www.augsburg.edu/president/.
EDUCATION
President Pribbenow holds a bachelor's degree (1978) from Luther College (Iowa) and a master's degree (1979) and doctorate (1993) in social ethics from the University of Chicago. He received the Distinguished Service Award at Luther College in 2008.
The Mission and Identity Vocation Lunch is an event that strengthens the concept of vocation at Augsburg for faculty and staff by providing role models from within the community to share a presentation on their sense of call and life journey.