This was a banner year for successful applicants. Six newly-appointed Fulbright Scholars will work in Africa and Europe.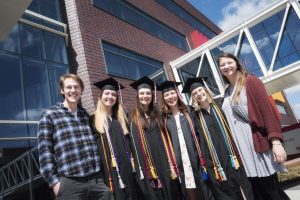 (From left to right):
Lyle Nyberg '18
B.S. in Biology, Chemistry, and Mathematics
Minor in Physics
2015 Goldwater Scholar
2013 Summer Lindstom Scholar, researching with Dr. Vivian Feng in Chemistry
Honors Program graduate
Traveling to Zambia to study malaria transmission.
Lyle will be working with the Southern and Central Africa International Center of Excellence for Malaria Research in Zambia to determine how public spaces in the Macha region contribute to transmission of the disease. When Lyle returns, he plans to enter a doctoral program in molecular biology with interest in the molecular evolution of infectious systems.
Madeleine Oswood '18
B.A. in Mathematics
2016 to 2018 researcher with John Zobitz in Mathematics
Studied abroad in Argentina
Mathematics tutor
Honors Program graduate
Traveling to Spain as an English Teaching Assistant.
Madeleine was placed in the city of Gijon in the Asturias region of Spain.  She plans to engage with her host community by creating an after-school art club to teach both U.S and Spanish art history.  After this year, she intends to become an actuary for a company with international connections.
Jubilee Prosser '18
B.S. in Biology
Minors in Public Policy/Political Change and Environmental Studies
2015 Summer Researcher with Emily Schilling in Biology
Critical Language Scholar studying Swahili in Tanzania
Honors Program graduate
Traveling to Kenya to study at-home water purification.
Jubilee will spend this year studying the barriers to a sense of ownership of at-home purification technologies through surveys, interviews, and focus groups before and during implementation of community-led water well programs. Upon return, Jubilee will pursue a master's or doctoral degree in Public Health and hopes to continue studying public health in Kenya.
Blair Stewig '18
B.A./B.S. in Biology
Minors in Chemistry and Environmental Studies
2015 Summer Sundquist Scholar with Dr. Joan Kunz and Dr. Ben Stottrup in Biophysics
Two sport athlete (Cross Country and Track), captain
Honors Program graduate
Traveling to Poland to conduct research on colorectal cancer.
Blair will investigate possible relationships between inflammatory response and colorectal cancer by studying a protein in cells. Her research will be sponsored by the Miaczynska Laboratory at the International Institute of Molecular and Cell Biology in Warsaw. After this year, Blair plans to pursue a M.D./Ph.D. dual degree in genetics/bioinformatics.
Abigail Tetzlaff '18
B.A. in English Literature, Language, and Theory
Minors in German and Sociology
2016 Summer Researcher with Dr. Douglas Green and Dr. Dallas Liddle in Digital Humanities
Editor-in-Chief of the Augsburg Honors Review
Honors Program Graduate
Travelling to Germany as an English Teaching Assistant.
Abby was placed in Berlin, Germany, and wants to engage older students and adults in her host community through a weekly book club and conversation table that focuses on U.S and German literature. Upon return, she plans to apply to doctoral programs and study the intersections of 19th century British literature and city planning.
Kaylee Gueltzow '17
B.A. in Secondary Education and German
Studied abroad in Vienna, Austria
TEFL certified
Augsburg Senior Leadership Society member
Honors Program graduate
Traveling to Germany as an English Teaching Assistant.
Placed in Greifswald, Germany, Kaylee plans to organize a book club to build conversation about the United States and have students practice speaking academic English. After, Kaylee plans to spend more years teaching abroad, then continue to teach middle school English. She also plans to gain her Master's in Education with an emphasis in World Literature.