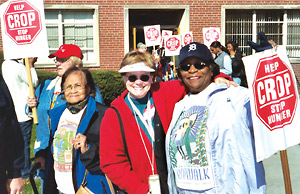 The annual Minneapolis Communities Responding to Overcome Poverty (CROP) Walk commences this Sunday, Sept. 30, at 2 p.m., with registration at 1:30 p.m. The walk begins and ends in Father Hennepin Park at Main Street and 6th Avenue SE.
The CROP Walk is a Church World Service event that raises funds for international development and sustainable agriculture projects as well as for local organizations.
This year, Minneapolis CROP walk sought to revitalize the walk's popularity, so the Church World Service asked Augsburg to assist. Answering the call, President Pribbenow lent his name and his words to this year's walk. His reason? CROP walks were a cherished memory from his childhood.
"I was asked to be the honorary co-chair for the Twin Cities CROP walk, and I couldn't be happier being associated with an important event on behalf of a great cause," says President Pribbenow. "I urge all Augsburg students, faculty and staff to consider joining me and my family on the CROP walk on Sept. 30. It will be fun, and we'll even get a bit of exercise!"
You can register online for the walk and to begin your efforts at fundraising. For more information, contact Tim Dougherty at doughert@augsburg.edu or at x1208, or visit www.churchworldservice.org/CROP/index.html.