Digital Archives Librarian Stewart Van Cleve shares his thoughts on a robust collection of Augsburg's archives.
When I started as the Digital Archivist last summer, I was fortunate to inherit a large number of collections that had already been digitized by my predecessor, Bill Wittenbreer. This included a full set of The Augsburgian, Augsburg's yearbook published from 1916 to 2010. For nearly a century, these yearbooks documented the buildings, faces, and events that stood out each year on campus.
They also reflect the graphic design aesthetics of their period. I particularly enjoy the nordic viking themes from 1930 and the midcentury modernism evident in 1958, but my favorite yearbooks all date from the 1970s. Looking at the covers from 1970 to 1979, you can almost hear the music transform from folk to disco.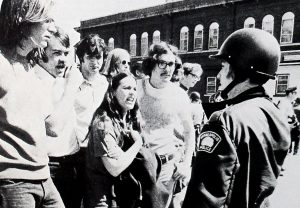 You can also see how the decade ushered dramatic changes in the Cedar-Riverside neighborhood. Beginning with its heady days as the epicenter of the Minneapolis counterculture, Cedar-Riverside transformed with the construction of Riverside Plaza and the unrest that welcomed the development to the neighborhood. It is also interesting to see the histories of familiar places, such as the Lucky Dragon and Hard Times Cafe (once Mama Rosa's).
To view the entire Augsburgian Collection, click here.
The University Archives preserve Augsburg's legacy and make its historical information available to students, faculty, staff, alumni, and researchers. The archives include information related to the university's history and provide limited information about administrators, faculty, staff, and alumni.