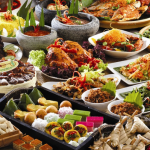 You are invited! To honor our Muslim sisters and brothers and to bring unity and solidarity to the Seward neighborhood, we will have a Community Interfaith Iftar Dinner this Wednesday evening, June 29, 7:30-10pm. Please join us for fun, food, and great conversation as we break our fast together during Ramadan!
This event is sponsored by Augsburg College, Bethany Lutheran Church, Soup for You! Café at Bethany, Seward Neighborhood Group, and Afro Deli.
Our community partner, Bethany Lutheran Church, is hosting this event and is located at 2511 E. Franklin Avenue, just south of Hwy 94 across the 25th Avenue bridge – minutes away from campus!