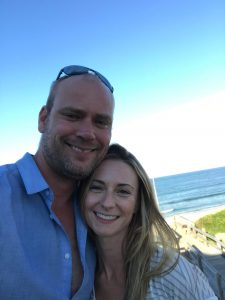 Some Augsburg University scholarships are endowed to honor a favorite professor. Some endowments come from happy transfer students who became generous graduates. Others represent a legacy that bridges generations of Auggies. And some, like the Dr. Grace Dyrud scholarship, are all of the above.
Lars Dyrud '97 virtually grew up on the Augsburg campus, taking violin lessons and hanging out in his mother's office after school. Until she retired in 2015, his mother, Dr. Grace Dyrud, was a psychology professor and department chair. Widely respected by her colleagues, she was known for her research on gambling and attitude toward the environment, her early support of feminism, and her deep commitment to her students. She taught at Augsburg for more than five decades, and her reverence for the institution was not lost on her children.
"All five of my brothers and sisters graduated from Augsburg. I think it was required by law," jokes Lars, who also notes that Dyruds could well take up an entire page in the alumni directory. Other alumni include his father, an uncle or two, even great uncles—about 30 all together, he estimates. But Lars chose Augsburg for more than legacy reasons.
"I had wanted to be an ast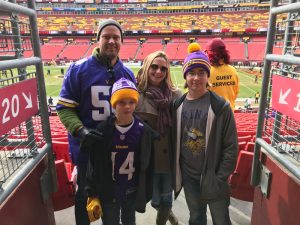 ronaut, but my corrective lenses kept me out of the program. So I decided to study space science instead," he says. He became a student and fan of Professor Mark Engebretson, director of Augsburg's Center for Atmospheric and Space Sciences. After earning his BA in physics, a Fulbright scholarship in space physics at the University of Oslo, and a Ph.D. in astronomy from Boston University, Lars embarked on a challenging career in science. He holds two patents and is currently senior vice president of machine learning for EagleView, an aerial imagery and data analytics company.
Of course Lars met his wife at Augsburg, too. Mocha Dyrud '97 transferred to Augsburg after her first years at the University of Minnesota, where such classes as introduction to psychology, with 1200 students, left her wanting a smaller academic environment where she could better connect with faculty and peers. She encountered Lars during her first semester, in their introduction to theology class. "We definitely noticed each other. I could tell by his comments that he was interesting and smart, but I was too scared to say more than a few words to him. He felt the same way," she says. Lars remembers first noticing her as "the beautiful girl whose homework the professor kept reading aloud as an example of 'perfect.'"
With a little help from friends, the two finally got together. Professor Engebretson later co-officiated at their wedding. Lars points out that his father, the other co-officiant's father, and the father of his best man knew each other at Augsburg. "It's all interwoven," he says.
Like Grace, Mocha is a psychology professor, now at Northern Virginia Community College. She notes that the scholarship, initiated by Grace's former student, Neil Paulson '77, is designated for a female psychology student. "Grace really gave the majority of her teaching career to Augsburg. Endowing the scholarship seemed like a perfect way to honor that, while also helping students financially," she says.
"We are particularly excited about the new Hagfors Center for Science, Business, and Religion and the pre-eminence this institution has developed. Augsburg has the best science, math, and physics program in the region," adds Lars. The Hagfors Center will house the psychology department.
Lars and Mocha live in Virginia with their two children, Finn, 13, and Eli, 10, who enjoy visits from their grandmother. Since retiring, Grace has been busy traveling, pursuing her passions for art and music, and dropping in to see the far-flung Dyrud grandchildren. And who knows? Some of them just may become that next generation of Auggies.